Bangor Metro Regional Magazine to be Sold to Private Investors

Sister publication Maine Ahead remains for sale.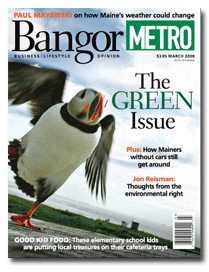 Bangor Metro, a six-year old business, lifestyle and opinion magazine serving the Bangor, Maine region, will be sold next month to a group of investors within the city—principally Jack Cashman of Cashman Asset Management, a long-time Bangor businessman.
The monthly title has a circulation of 11,000 and is profitable, according to former publisher Mark Wellman, who founded the magazine under parent company Webster Atlantic Corporation. Webster's other publications included Real Maine Weddings, which Wellman says has been bought by two of the company's employees, as well as Maine Ahead, which is still for sale.
Cashman has hired several of the magazine's employees, not including the editor, publisher, a salesperson and the bookkeeper, to create a total staff of six.
"It's been a tremendously gratifying experience to produce something that people truly appreciate," says Wellman. "I'm glad at least two of the titles will continue to be published."
Maine Ahead, a statewide business title published ten times per year, launched in January 2010 and has struggled financially, according to Wellman, who says, "We put a plan together in 2008 to raise $400,000, but we didn't get anywhere near that. We were under capitalized in a difficult time. Even though people loved the magazine and it was extremely high quality, a series of events occurred this past year that forced us to consider selling the titles." A new issue of the magazine is set to hit newsstands next week, but Wellman says he has not committed to publishing additional issues beyond that one.
Wellman and a representative for Cashman declined to release terms of the deal.
Meet the Author
---