Baltimore Magazine Gets a Facelift

A redesign will debut in August, the title's annual "Best of" issue.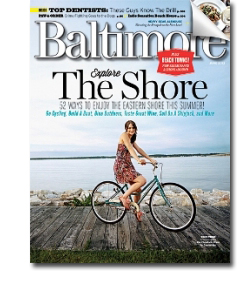 It's been nearly seven years since Baltimore was last revamped, but an upcoming redesign in August will change that. The makeover, led by the art and editorial teams, will consist of more extensive segments familiar to Baltimore's readers, a mass of new editorial material and more design components. Much of the new content will focus on expanded events listings and a renewed focus on shopping.
Baltimore's art director Amanda White-Iseli notes that the motivation for the upgrade is to "enhance [the] reader's experience." According to White-Iseli, the magazine will be "easier to navigate," but will have a larger amount of the content. The magazine's "Upfront" section will incorporate event listings, book and movie reviews and will have a new focus called "The Launch," featuring the top five events of the month.
The magazine's director of marketing Jessie Peterson says Baltimore does "not have plans to expand distribution" with the redesign. "The success of the redesign will be judged accordingly over time," Peterson says.
Though proposals for distribution expansion are not currently in the making, Peterson believes that the magazine will be "more appealing to both readers and advertisers." For advertisers, such an appeal directly corresponds with Baltimore's typical increase in advertisements in its August "Best of Baltimore" edition.
 
Additional features of the magazine's upgrade include a section called "Charmed Life," highlighting the city's shopping and trends. The section will be made up of new segments like "TrendWatch," "Top 10 Lists" and a new beauty and wellness piece. The magazine also plans to extend their dining and events listings. In spite of their expansion, Baltimore listings do not have any revenue connected to them.
Meet the Author
---