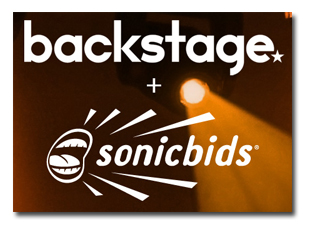 Backstage, the niche magazine for the acting and modeling community, is expanding its scope with the acquisition of Sonicbids, a social music marketing platform that connects bands, promoters, consumer brands and music fans.
This is the first major deal since the parent company of Backstage, Guggenheim Digital Media, changed its name from Prometheus Global Media and tapped former Yahoo! exec Ross Levinsohn as its CEO earlier this month.
According to The New York Times, the deal is estimated to be worth $15 million—a number John Amato, chairman and CEO of Backstage Media, declined to confirm.
"Sonicbids is kind of like Backstage but for musicians and it's like LinkedIn for musicians," says Amato. "Sonicbids is the number-one platform for bands and some DJs to find gigs. If you were a band you would use Sonicbids to find your next show—it's a job platform for creative artists."

Backstage has long been used as a resource guide for the acting and modeling community. When the magazine announced the re-launch of its publication in April, and rolled out its redesigned properties in August, a heavy emphasis was placed on career utility. Amato says this type of job board compliments the existing Backstage structure and also expands its scope.
"Our goal at Backstage is and always has been to help performing artists get gigs, educate themselves and manage their careers—this is an extension of that," he says. "We were very narrowly defining performing artist as model, singer and dancer. Now we include musician and that's really what extends our platform and scale."
The joint reach of the two companies includes 600,000 registered users, with about 60,000 of them being paying subscribers. Amato says that in addition to audience growth and scale, the acquisition helps Backstage stay current among its existing demographic who look toward celebrity culture overall instead of specific niches.
"It'd be different if we bought a company that helped scouts find professional athletes. It's not out of the question, and I am looking at these companies, but (Sonicbids) is the most adjacent business," adds Amato. "We're buyers—if it makes sense—so we're looking at everything. I think that's a general strategy of the Guggenheim and Backstage family: We're interested in aggressively pursuing growth."
Stay updated on the latest FOLIO: news, follow us on Facebook & Twitter!