Backpacker Unveils Carbon-Neutral Project

Magazine calculates climate impact, aims for zero carbon footprint.
Backpacker, the Boulder-based
magazine for outdoor enthusiasts, has completed a six-month study
to calculate its carbon footprint. The magazine contracted with a firm called
Cooler to measure how many pounds of CO2 its printing, production and
distribution operations create. Results indicate the magazine, with a 9-times
frequency, produced about five million pounds of CO2, or 500,000 pounds per
issue, in 2007. The two biggest contributors are paper and distribution, at 48
percent and 26 percent respectively.
"We wanted to pin down every single aspect of magazine operation," says Jon
Dorn, Backpacker's editor, who
contracted with Cooler, a San Francisco-based firm that measures global warming
of consumer goods. "We knew we didn't have the scientific or mathematical
skills to put reliable numbers on this. These guys popped up as being at the
center of carbon footprinting for more than a decade."
Cooler worked with Backpacker to
examine the 2007 impacts of paper production and printing; distribution,
including newsstand and subscription mailings; staff travel; and energy use
across the entire production cycle, including office use. "We went through
about 10 generations of calculations until they were satisfied they had something
that was scientifically valid and statistically reliable," says Dorn.
The three biggest contributors, says Dorn, are paper, distribution and travel.
"Paper is nearly 50 percent of it and distribution is a quarter. What was a
surprise was how significant travel was, it's the third biggest contributor."
Indeed, staff travel nudged past printing and production for nine percent of
the total.

'Like Understanding
What Goes into Sausage'


Of the elements that were analyzed, distribution, says Dorn, was the most
difficult to tally. "It's probably the most Byzantine part of our business. We
have more than 20,000 newsstand outlets and all the distribution companies
overlap. It's one of those things where you get an education, but then you're not
sure you really wanted to know-like understanding what goes into sausage."
Nevertheless, Dorn and AIM's single-copy expert, Marcia Orovitz, had to
determine the mileage for the trucking routes for a proper measurement. "To be
honest, we made some assumptions to make the calculations easier. We didn't
literally come up with mileage for every leg of every trucking route for every
one of the 150,000 copies that goes to 20,000 newsstands," says Dorn.
Extra copies at newsstand were also measured, but Dorn says the majority of
those are recycled. "We had information from the distributors about what
percentage of unsold copies were being recycled versus landfilled. We found
that almost all of the unsold copies are recycled."

Taking Action
Next is Backpacker's action
plan. Dorn says the magazine will now work to decrease what it can of the
carbon footprint and offset the rest by investing in renewable energy projects,
ultimately achieving a 100 percent carbon-neutral magazine operation. "We
didn't undertake this project just to understand what the impact of the
magazine is, we did it so we could take action."
So far, a 12 percent reduction has been achieved through paper stock changes
and moving pages from the magazine's regional editions to the Web. A digital
edition was created with Zinio, and the Boulder office has been made a
zero-waste facility. Staff have also pledged to walk, bus or bike to work at
least 25,000 miles this year.
"Our analysis gave us a carbon footprint of 1.12 pounds of CO2 equivalent per
copy in 2007," says Dorn. "After making these changes, we're down to .9
pounds."
The rest will be offset through renewable energy investments-a methane capture
project on a dairy farm in Wisconsin, for example.
The cost of all this, says Dorn, has been very affordable. "The cuts that we
made in paper production and postage more than paid for not only the actual
analysis but also the offsets. For the offset investments, we're looking at
well into the five figures. In fact, I was able to budget the offsets into my
editorial budget."
Now, says Dorn, the magazine industry can understand what kind of impact
magazine production has on the climate. "For the first time as magazine people,
we understand the rough impact of a magazine versus another type of product. I
would guess for most magazines, it would be in the 1-to-2 pound per copy
range."

A Comparison of Backpacker's
Carbon Footprint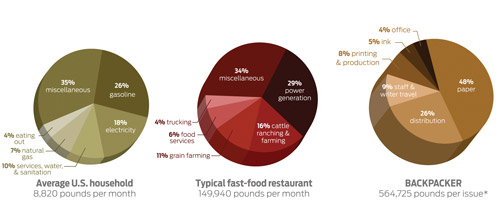 SOURCE: Backpacker
Meet the Author
---