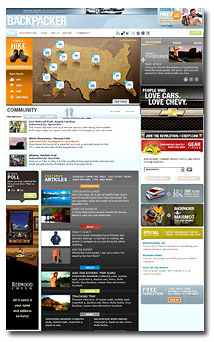 Active Interest Media's Backpacker magazine is getting ready to officially relaunch its Web site next week—the site's first significant redesign in several years. The new site was soft-launched about a month ago and features new multimedia content and more than 1,200 GPS-supported hikes.
"Based on responses from a 2,000-person reader panel, as well as our extremely active forum community, we put a plan in place that would significantly increase the amount of content and the number of Web 2.0 features on the site," explains Backpacker.com editor Anthony Cerretani. "Our readers are more internet-savvy than ever, and we wanted to give them the ultimate adventure and travel destination."
New content on the site is built around several "key content buckets," Cerretani says, including tip reports, gear reviews and specifications; up-to-the-minute adventure news and advice; and editor-produced on-the-scene videos.
"Front and center [the first new aspect a visitor will notice] is a clickable interactive map of the United States," Cerretani says. "Over 1,500 trip reports in every state are accessible right there—no matter where you live, you're going to find a hike within 25, 50 or at most 100 miles from your home. The map is actually a complete trip-planning center with multiple layers of useful content."
The new site also features a GearFinder product search tool, an expanded community page (currently has about 20,000 members) and more than 1,200 GPS-supported hikes, which feature photos, expert-approved hiking directions, interactive maps, video and GPS data.
Backpacker.com's redesign has really been in the works since last fall, Cerretani, says, after the magazine was acquired by Active Interest Media and later relocated to Boulder, Colorado from Pennsylvania. Since its soft-launch last month, the redesigned Backpacker.com has seen a 22 percent increase in pageviews and a 27 spike in unique visitors. The site averages 2.2 million pageviews per month and about 150,000 unique visitors.