Backpacker, Esquire, New Yorker, Wired Lead Subdued Ellies

Few surprises, somber mood at 44th annual National Magazine Awards program.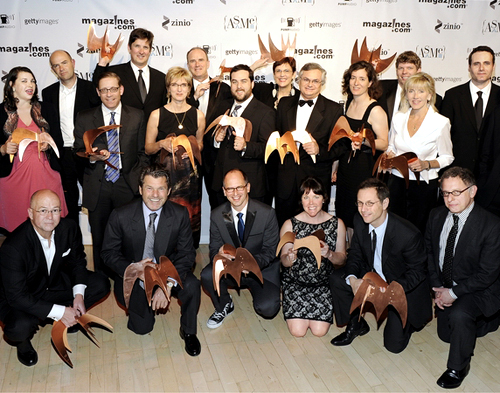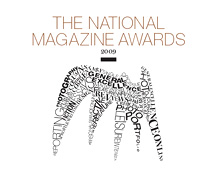 RELATED: FOLIO:'s Ellies Twitter Stream 
NEW YORK—The 44th annual National Magazine Awards—a normally boozy, raucous affair—were held during a gala ceremony at Jazz @ Lincoln Center here Thursday.
But unlike other years, given the seemingly endless waves of layoffs, magazine closings and reports of hemorrhaging ad pages that have rocked the industry in the last 12 months, this didn't feel like a celebration.
Backpacker, Esquire, Wired and the New Yorker led the awards field, winning three Ellies each.
Jimmy Fallon, host of NBC's Late Night, presented the evening's first two awards, for excellence online. Backpacker editor Jonathan Dorn, in accepting the Ellie for Backpacker.com, said he hoped it would allow him to keep his job for a year, "maybe two."
"This gives us air cover," he said.
Chris Anderson, accepting Wired's third Ellie, apologized for his sudden ubiquity: "This is usually the part where [New York magazine editor] Adam Moss or [New Yorker editor] David Remnick start apologizing."
Anderson also thanked his boss at Condé Nast, Si Newhouse, for approving a cover he told Newhouse would "tank." "Si said, 'Oh, it doesn't matter.'"
Four of the magazine industry's iconic editors—Rolling Stone's Jann Wenner, Tina Brown, and Vogue's Anna Wintour and Vanity Fair's Graydon Carter (left to right, above)—presented photographer Annie Leibovitz (center) with a general excellence Ellie—the first ever to be awarded to an individual, not a magazine.
Wenner accepted Rolling Stone's award for a profile of the late writer and novelist David Foster Wallace, who committed suicide last fall. "David won a National Magazine Award for a piece he did for us years ago," Wenner said. "He was one of the true talents."
'Chainsaw-Wielding'
Texas Monthly editor Evan Smith delivered the best acceptance speech of the night, thanking everyone from George W. Bush and Karl Rove to "chainsaw-wielding murderers" and Willie Nelson, for making the job of covering the state of Texas an "easy" one. (Texas Monthly won for general excellence, 250,000 to 500,000 circulation.)
Despite its elder demographic, AARP the Magazine won an Ellie for best interactive feature online, taking out National Geographic, Salon and Wired.com.
After Bicycling won an Ellie, its editor, Loren Mooney, said: "Bicycling? Seriously?!?"
There were few other surprises, albeit big ones: Field & Stream won a general excellence award (1,000,000 to 2,000,000 circulation), beating the New Yorker, Vogue and Popular Science.
Reader's Digest, nominated for the first time in 20 years, won a general excellence award  (over 2,000,000 circulation), beating Martha Stewart Living, Real Simple, National Geographic—which won three Ellies last year—and Time.
Said editor Peggy Northrop: "This is for all of my friends who said I was crazy for taking this job."
SEE ALSO: FOLIO: Q+A with Northrop
[PHOTOS: Steve Friedman]
Meet the Author
---