Back Stage Plans Relaunch, Expansion

Updated version of website and weekly print pub to hit the market this summer.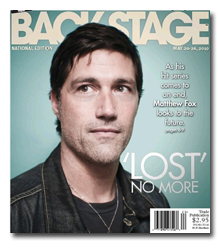 Weekly magazine Back Stage is re-launching its print publication and website to better capture best practices for individuals actively seeking news, information and careers in the preforming-arts industries. In addition to its print re-launch, the company's chairman announced that the group would be rolling out an updated version of its website; enhancing its live events portfolio and introducing a new publisher.
"The essential function of Back Stage is to help preforming artists get jobs and get educated about their careers," says John Amato, chairman and CEO of Back Stage LLC. "We looked at this re-launch holistically and asked what are some of the best practices across all industries online right now for helping people get jobs and get educated. We asked what are some of the more functional utilities for print publications that are out there. We hired some of the best firms in the world and internally hired some of the best people out there to accomplish some of these goals. This whole strategy is really a refresh."
In line with the relaunch, Charlie Weiss has been named vice president and publisher, joining the company from healthcare media company Intellisphere. Weiss replaces Jeff Black, formerly publisher and general manager. Additionally, the company has added personnel to focus on castings and community outreach.
Back Stage generates close to 2 million unique visitors a month, while 16 million job searches are performed on the site annually. Amato estimates that the print edition has a sell-through rate about 10 percent above average. In the first quarter of this year, Back Stage experienced a growth rate of more than 400 percent for new subscribers when compared to the same period one year ago, with Web traffic growing by about 20 percent.
"The catalyst for this whole refresh is making the product better for the audience," says Amato. "We want to apply more best practices online to make job searching really easy—one click to get the most relevant information and introducing digital asset incorporation with the ability to upload cover letters and resumes."
For the magazine, the publication will be examining how people read Back Stage in addition to analyzing what articles and departments are most liked and read. From there, Amato says, the magazine will be expanding those areas and making the publication easier to digest, skim and interact with.
The company's tradeshow division will also be expanded under the relaunch.
"Actorfest is now in its 20th year, and we have historically done it in Los Angeles and New York, the two central hubs for acting," says Amato. "What's happening now is the world is getting much smaller. You can actually apply for castings in New York when you live in China—and as long you have a smartphone that takes video, you can submit to a casting director. We've decided now to take Hollywood to your hometown and expand our Actorfest events division to Philadelphia, Michigan, Las Vegas, Chicago and Austin, Texas."
In October 2010, it was reported that Prometheus Global Media (formerly e5 Global Media) acquired Back Stage and other properties, eventually forming a strategic alliance with Back Stage LLC through a group of investors led by Amato. When asked about the strategic alliance, Amato declined to give details on the relationship between the companies, or disclose whether Prometheus holds a majority or minority stake in Back Stage.
"We don't comment on the ownership structure of the publication or financials," says Amato.
Meet the Author
---