Back From the Dead! AMI Sells WWN

Newly-formed investment group buys sensational, defunct tabloid.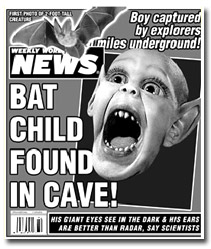 "MAGAZINE FOUND ALIVE!"
American Media Inc. has sold its defunct Weekly World News, the supermarket tabloid known for its sensational covers, to a group of New York investors, the company announced late Saturday.
Terms of the deal were not disclosed.
AMI shuttered the publication last August.
The newly-formed investment group—named Bat Boy LLC, a nod to one of the magazine's schlocky cover characters—is led by Neil McGinness, former VP of marketing for Lorne Michaels' Broadway Video Entertainment—the production company behind Saturday Night Live. McGinness will serve as CEO of the new company.
McGinness hopes to expand the brand's reach by licensing its "characters" into television and film.
He was not immediately available for comment Monday.
"The Weekly World News is a powerful brand in publishing, entertainment and online," McGinness said in the release announcing the deal. "The Weekly World News brand and its characters have inspired musicals, books, feature film projects and television shows over the years. We see tremendous potential for growing the brand and significantly expanding the business."
Circulation for the publication had fallen below 90,000 before AMI pulled the plug.
The Boca Raton-based publisher of Shape and Men's Fitness, like many others, has had trouble maintaining steady newsstand circulation and advertising revenue across its titles.
AMI, which was acquired in 1999 by David Pecker, was said to be close to a sale to earlier this year to Source Interlink but a deal never materialized.
Meet the Author
---