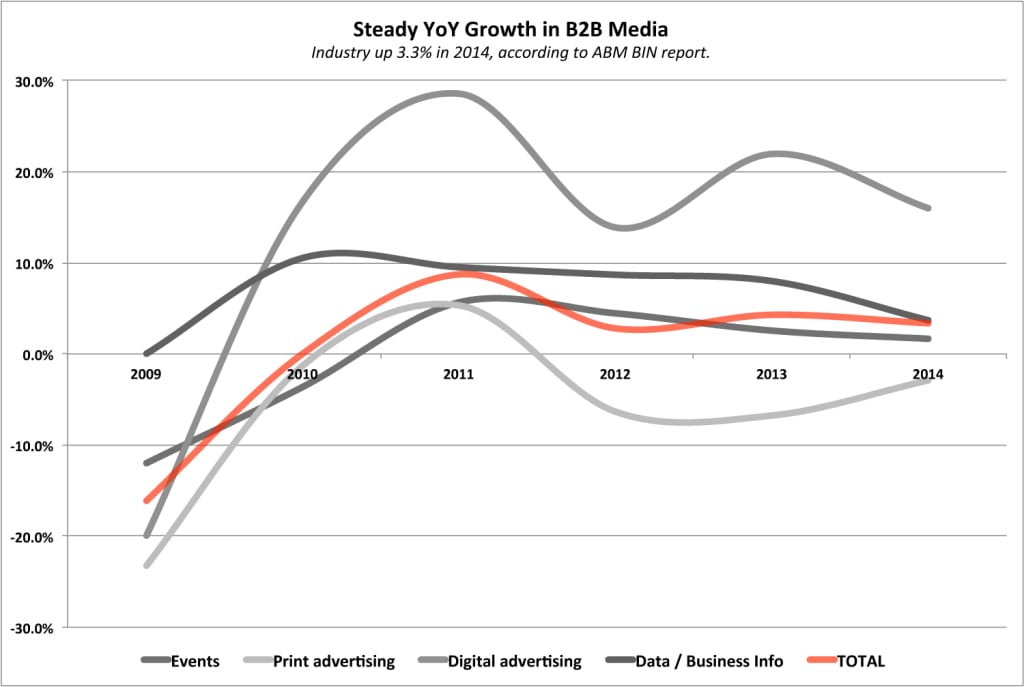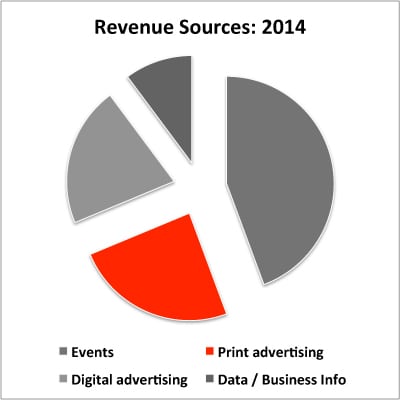 B2B media revenue topped $27 billion for the first time since 2008, according to the year-end Business Information Network (BIN) report from ABM.
At $27.6 billion exactly, the industry was up 3.3 percent from 2013. A strong fourth quarter bolstered the effort, the report says.
Factoring in inflation, things still aren't quite at prerecession levels, but they're trending in the right direction. Industry growth has been positive each year since 2011, following a flat 2010 and a 16-percent dive in 2009.
The biggest change over that time has been the revenue mix.
Events have remained the driver of B2B media companies, accounting for $12.2 billion, or 44 percent, of revenue in 2014. Conversely (and not surprisingly), the role of print advertising has shifted dramatically over that period, shedding more than $3 billion, or 12 percent of total industry earnings.
Digital advertising has been the most critical replacement for ad pages. The segment now accounts for $5.8 billion, or more than a fifth of total B2B media revenue—double what it was in 2008.
"While display digital advertising hasn't turned out to be the cash cow that many expected it to be as CPMs continue to sink in both the B2B and consumer digital media space, the melding of digital advertising with marketing services solutions, the rise of native advertising and digitally-driven content marketing (which account for about 20 percent of digital advertising for both B2B and consumer media companies and is poised to grow to 50 percent of digital advertising revenue by 2016, according to Polar), as well as new KPIs and improvements in viewability and delivery will keep digital advertising at the forefront of B2B media growth," the report notes.
Data and business information services have also stepped into the void left by print advertising. Revenue was up to $2.8 billion in 2014, making up 10 percent of aggregate industry earnings.