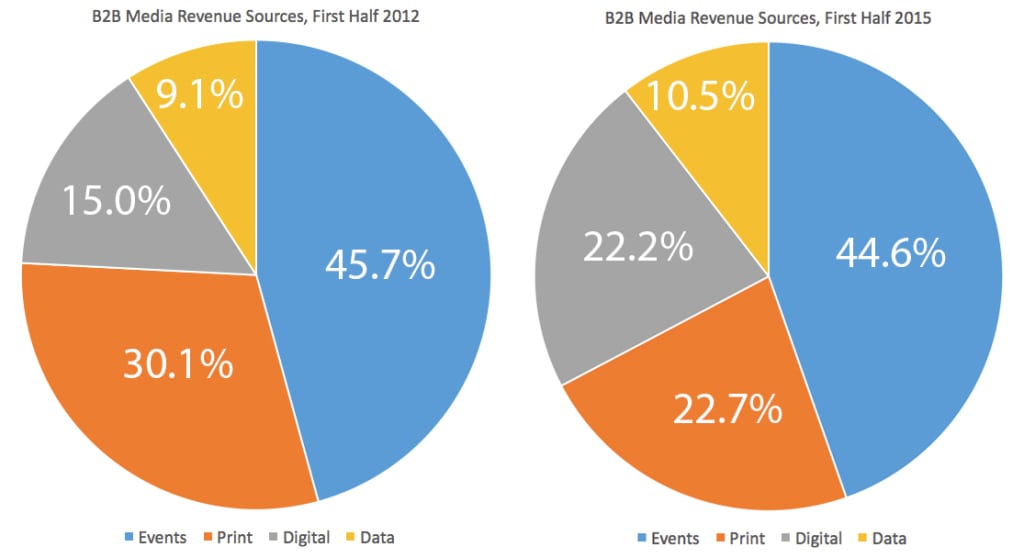 B2B media and information industry revenue swelled to $14.1 billion in the first half of 2015, a 4.4 percent jump over the same period last year ($13.5 billion), fueled by significant growth in digital advertising and data/business information sales, according to ABM's mid-year Business Information Network (BIN) report.
Digital advertising continued its upward trend, growing to $3.12 billion, up 14.7 percent over the $2.72 billion posted in the first half of 2014. Although still a smaller source of revenue, data and business information also picked up where it left off in 2014, growing 8.1 percent to $1.47 billion.
"While display digital advertising hasn't turned out to be the cash cow that many expected it to be as CPMs continue to sink in both the B2B and consumer digital media space," writes ABM's senior director of content and programming Matt Kinsman in the report, "the melding of digital advertising with marketing services solutions, the rise of native advertising and digitally-driven content marketing, as well as new KPIs and improvements in viewability and delivery will keep digital advertising at the forefront of B2B media growth."
The events business is still the primary revenue source in B2B media, accounting for $6.26 billion in revenue during the first half of 2015, or 44.4 percent of total industry revenue. That figure is up 4.5 percent from the $5.99 billion posted in the first half of 2014. After stalling briefly in the first half of 2014—revenues rose just 2 percent over 2013's first half total—the events segment saw a solid increase in the first half of 2015, although the growth is not nearly as rapid as that of digital advertising and data revenues.
After coming very close in the first quarter of 2015, digital advertising revenue finally eclipsed that of print revenue in the second quarter. Digital's $1.66 billion in revenue just edged print's $1.65 billion.
Altogether, print advertising revenue fell to $3.18 billion for the first half of the year, a 4.8 percent drop from the same period last year, mimicking similar first-half declines that have ranged from 2.9 to 8.5 percent going back to 2012. First-half print revenues have fallen 15.4 percent over the last four years.