Su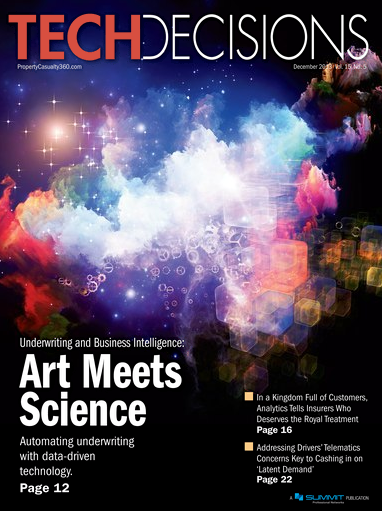 mmit Professional Networks announced a shift to digital for its quarterly magazine, Tech Decisions, toward the end of the first quarter in 2014. Tech Decisions, currently operating via PropertyCasualty360.com, will continue to be housed there as a web-based magazine with plans for a tablet magazine. In addition, Summit Professional Networks will offer an expanded digital portfolio including custom content creation for its partners, webcasts and face-to-face events.
"The relevance to the tech audience is to see the information in their domain," says Gary Mirkin, senior vice president of the Custom Solutions Group at  Summit Professional Networks. "We made the decision [to go digital] because the distribution is solid and that it is being sought after by our audience through our tech channels."
In 2013, Tech Decisions magazine produced four regular issues, one special edition and a weekly e-newsletter called "Tech Digest Weekly" to a roughly 24,000-person circulation of mostly c-level executives, IT managers and larger mid-market agents in the insurance industry.
"We see the potential to increase [our audience] by virtue of broadening the editorial focus of the digital publication [and] the ability to reach the other segments that Summit Professional Networks focuses on—financial, insurance, legal and subsets of those," Mirkin contends. "In essence, the strategy should take the circulation much higher."
As part of the new strategy's digital format, Summit plans to leverage its presence in the financial services, benefits and legal markets by adding "strategic thought-leader programs" to its portfolio including webcast, video, live event and whitepaper components, acting as a "channel -support tool generator" to help its partners disseminate information to their clients, according to Mirkin.
"Digital obviously offers a much broader audience a platform that they're used to using now rather than a platform that is clearly somewhat cumbersome for people to get to," he says.  "They should get the information in the platform they're used to and that they want to, so that it becomes more of a tool for them. It's kind of the way of the world in this particular [audience] segment."
However, Mirkin does not disregard the appeal of print or its market demand.
He adds that if a sponsor showed "great interest and would like print issues for their channel, sales force or their tradeshow," the company would consider accommodating the request.