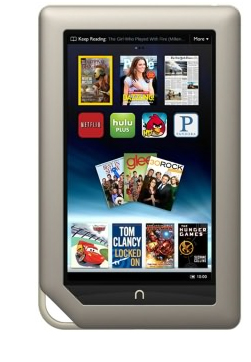 Barnes & Noble today announced a new $199, 8GB Nook tablet. The pricing and configuration put it right in line with Amazon's Kindle Fire.
Meanwhile, the company has dropped its Nook Color pricing as well, from $199 to $169. The move clearly targets the Kindle Fire, but it's also an attempt to open the throttle on device and content sales even further. Both were up significantly, according to third-quarter financials.
Where B&N's new Nook and Amazon's Kindle Fire will compete is in the content. Both offer their own cloud services but much of the Nook's content is through third-party relationships with Netflix, Hulu, Pandora, Rhapsody and Grooveshark, among others.
In B&N's fiscal third quarter, total sales edged up 5 percent to $2.4 billion, with comparable store sales up a slight 2.8 percent. BN.com sales jumped 32 percent over the same period last year to $420 million.
Overall Nook sales, including devices and content jumped 38 percent during the quarter to $542  million. Breaking those numbers out, unit sales were up 64 percent for the quarter to $542 million while content sales—books, newsstand and apps—were up 85 percent. "Importantly, our NOOK digital content business continues to grow rapidly, and according to some of the largest U.S. publishers, we maintained or slightly gained share in the eBook market during the third quarter," says B&N CEO William Lynch in a statement.
Earnings tell another story, however. Net income was $52 million for the quarter, down from $60.5 million in third quarter 2011.