B&N to Stop Manufacturing Nook Tablets

Nook revenues fell 17 percent in FY13, overall B&N earnings down 4 percent.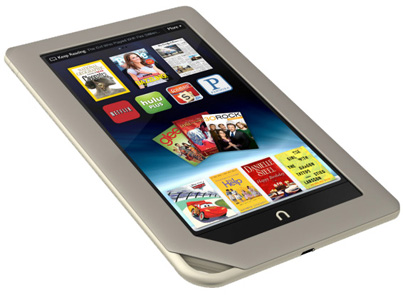 For Barnes & Noble's Nook tablet, content isn't king anymore.
With digital content sales dwindling, the bookseller has announced that it plans to distance itself from production of the Nook tablet, instead relying on third-party manufacturers to build the devices. B&N will continue to build and develop its black-and-white eReader products in-house.
The announcement came as part of B&N's fiscal year 2013 earnings report. The company suffered an overall revenue decline of 4.1 percent to $6.8 billion, with net losses of $154.8 million or $2.97 per share. Nook segment revenues dropped 16.8 percent on the year to $776 million, and 34 percent in the quarter to $108 million.
"Our Retail and College businesses delivered strong financial performances," says William Lynch, CEO of B&N, in a statement. "We are taking big steps to reduce the losses in the Nook segment, as we move to a partner-centric model in tablets and reduce overhead costs."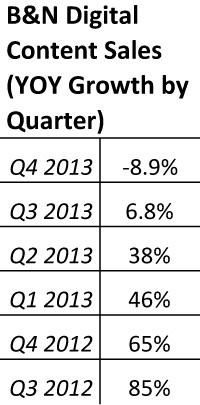 Digital Sales Growth Stalls 
With the cost of unsold tablets totaling $133 million for the quarter and $222 million for the year, Lynch says the partnership model will have an immediate impact in reducing expenses.
Digital content sales-the underlying profit maker behind low-cost tablets like B&N's Nook and Amazon's Kindle series-have stalled after several quarters of robust growth.
See Also: Digital Content Sales Grow 38 Percent for Barnes & Noble
Year-over-year growth rates have consistently slid since the Nook tablet launched in November 2011, according to B&N quarterly reports, finally falling into negative territory in the fourth quarter of FY2013. The company attributed the poor digital content sales to an absence of major consumer titles and a decrease in device sales.
Lynch adds B&N will continue to invest in its digital catalogs and will still service the tablets at its brick-and-mortar retail stores.
To stay updated on the latest FOLIO: news, become a Facebook fan and follow us on Twitter!
Meet the Author
---