B-to-C and B-to-B E-Mail List Pricing in Sharp Five-Year Decline

Summer pricing for two list categories fell 49 percent and 11 percent.
Summer 2011 list pricing, according to list marketing firm Worldata, was flat to down when compared to summer 2010 pricing. Eight categories saw declines, ranging from about 2 percent to 21 percent. However, a five-year look at the data indicates b-to-b and b-to-c email list pricing have been on a sharp drop.
Most categories, which include Attendees/Members, Business Mags/Controlled, Consumer Magazines and Databases/Masterfiles, among others, either rose or fell in the single digits, largely remaining flat between summer 2010 and summer 2011.
The controlled business magazines category declined 3 percent, or $5/M, to $141/M. Paid circ business magazines fell almost 2 percent, or $2/M, to $128/M.
The consumer magazines category dropped only one percent, or $1, to $94/M. Database and masterfile list pricing fell slightly more-5 percent, or $7/M, to $123/M.
Newsletter list pricing, says Worldata, remained stable, gaining $1/M and bumping up to $168/M. Permission-based b-to-c email lists, however, declined sharply, losing 21 percent settling at $89/M-a $23/M drop.
That drop continues a precipitous fall over the last five years where those lists lost 49 percent of their value. "Consumer email list pricing has seen a dramatic fall," says Ray Tesi, senior vice president of Worldata in a prepared statement. "This is a result of significant supply and demand issues. Over the last five years consumer email data has become much more widely available while marketing budgets have ben cut significantly. These two factors combine for a major shift in pricing. On a smaller scale the same issues have impacted business-to-business related email list pricing."
B-to-b permission-based email list pricing rose $9/M between summer 2006 and summer 2008 before dropping 11 percent to $269/M, where it is now.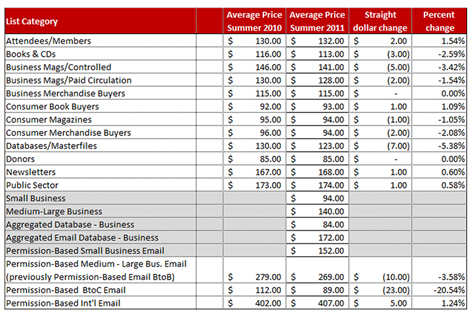 Meet the Authors
---