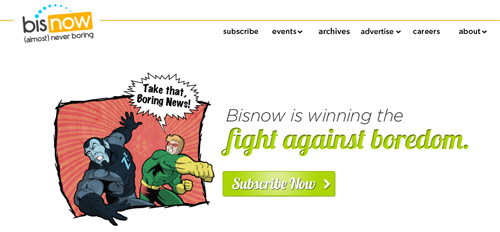 Yes, b-to-b media is mostly straightforward and dry. Publishers are laser focused on helping their audiences do their jobs better. Who's got time—or the skill, for that matter—to inject a little humor into the mix? Fun rarely creeps into b-to-b media. Many have tried, but more often than not its execution falls flat or doesn't mix well with service journalism that's attempting solve and explain big, serious issues.
Nevertheless, some media companies are still trying. UBM has been incorporating a major community element into its brand platforms, letting the audience participate through robust commenting and user-generated content that's often facilitated by light-hearted engagement tactics.
Another company has spent the last eight years putting humor and fun at the core of its b-to-b media model—and has  grown rapidly. Bisnow, founded in 2005 by Mark Bisnow, produces newsletters and summits targeting the local commercial real estate market. It has grown at a 70 percent compounded rate since 2009, says CEO Ryan Begelman.
In 2012, Bisnow made almost $11 million in total revenue. Begelman expects to hit about $14 million by the end of this year.
Bisnow's model is simple. The company launches newsletters and events targeting regions that have a thriving real estate development community—especially regions that have their own niche markets. Instead of Manhattan, think Williamsburg, Brooklyn. Currently, the company is in 22 markets, producing 31 newsletters. Collectively, the newsletters reach about 500,000 subscribers.
Bisnow's market penetration is getting to the point where Begelman says they're beginning to chase national advertising accounts to supplement the local businesses that have been the bread and butter for ads and event sponsorships.
Content aggregation and curation is not part of the model. Each market has a dedicated beat reporter who works the phones to build sources and news. Newsletter content is primarily people-focused, a tactic that, especially when breaking into a new market, helps the virality of the newsletters. "You still get the facts, but they're packed into 200 words, and the bulk of it is focused on the people behind it," says Begelman.
When a prominent real estate executive is featured in a newsletter, it often gets forwarded around that market's tight-knit group of developers. According to Bisnow's media kit, 88 percent of subscribers forward an issue to their colleagues.
"Aggregation is a kind of commodity," says Begelman. "We're still very much focused on original content. We don't sit back and gather news off of RSS and Twitter feeds."
The fun starts as the newsletter content gets forwarded from the writer to a copy editor and then filtered through a stable of full-time humorists. "They put a little color and flair into everything we do to give it more of a bite," says Begelman. From there, a top editor polishes the copy. All the newsletters are daily.
But it's the events that are the main revenue driver, accounting for 85 percent of the company's topline.
The company produced about 250 events last year, selling about 70,000 tickets. Attendance at each event ranges from 125 to 1,100, depending on the market. Ticket prices average $67.
The newsletter subscribers are key to a market's event viability. "Once we've built a newsletter to 5,000 to 10,000 subscribers it becomes economically feasible to start producing events on a hyper-local level," says Begelman.
Attendees range from architects to developers, investors, brokers and the information product companies that supply the brokers.
Programming is short. An event starts at 7:00 am, kicking off with an hour of breakfast schmoozing, followed by a 90-minute session featuring a panel discussing the latest industry topics. "We keep the content very short, the key is to get everyone back to the office by 10:30," says Begelman.
Marketing packages are inherently "native," combining newsletter display ads and sponsored content with event sponsorships that can include traditional table tops to spontaneous, 30-second man-on-the-street interviews with a sponsor that "interrupt" a panel discussion. Sponsors, where it makes sense, can also be integrated into the panels.
Up to now, Bisnow has not taken any outside investment, but Begelman hints that might change as the company explores expansion opportunities. "We wanted to perfect the model and grow it methodically," he says. "But there's this giant marketplace of advertisers around commercial real estate that is finally moving over to digital media. There's an opportunity to capitalize on native, video and other new forms of marketing. And offline events are still a significant marketplace to tap into more regions and expand abroad. We're doing our homework now to figure out if we grow by raising capital or keep on bootstrapping."
For a taste of Bisnow's brand of humor, they produced an in-house video to spoof their approach to event production: