B-to-B Marketers, Readers Don't See Eye-to-Eye on Value of Print

In new ABM report, marketing spend shifting from print faster than readers.
ABM has released a market report that aims to quantify the core tenet of b-to-b media: Connecting buyers and sellers. As the media market continues to fracture across different content platforms and access preferences change among readers, marketers are adjusting their spend accordingly. In its wide-ranging survey, ABM looks at those two core aspects—how readers are accessing b-to-b content and how marketers are valuing the various platforms.
You can access the full report here, but among the topline results, ABM found that media users are not necessarily picking one content platform over another. According to the report, 74 percent use both traditional and digital media.
Mobile occupies a big chunk of media user attention, with 63 percent using websites or apps designed for the mobile platform, says the report.
Print is at the center of an interesting dynamic between publishers, marketers and readers. It's still the biggest revenue driver for publishers, says ABM's report—a metric that's confirmed by FOLIO:'s own research—and readers still value print. Sixty-one percent of respondents say that "print magazines will stay constant or grow in importance over the next five years," says the report.
See Also: 2013 FOLIO: B-to-B CEO Survey
However, marketer respondents have already moved on. Only 11 percent say they'll increase print ad budgets over the next year—a third plan to cut print ad budgets.
At the same time, the report says that marketers view print circulation as the least useful audience metric.
In the meantime, of course, b-to-b media companies have built out their event and digital properties, with events emerging as a key strategy for marketers. According to the report, marketers give high grades to events as brand-builders and lead-generators: 76 percent rate sponsorships as "highly successful" in generating both awareness and leads around new products.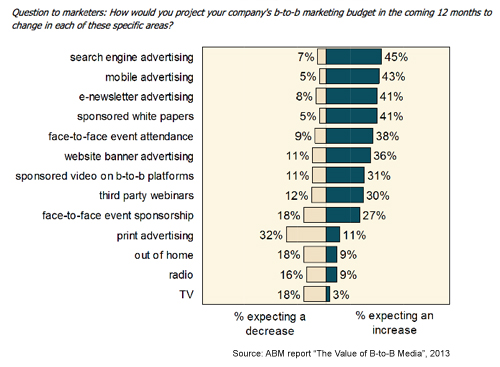 Meet the Author
---