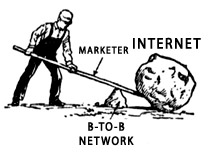 With the industry facing declining print advertising revenues, four prominent b-to-b publishing companies—Cygnus Business Media, Nielsen Business Media, Reed Business Information and McGraw-Hill—have launched an online advertising network to leverage their combined traffic for marketers.
Called BBN, the network—consisting of more than 200 Web properties from titles including Aviation Week and Defense Technology, CPA Technology Advisor and Construction Equipment—will target advertising dollars normally outside the b-to-b realm, flexing the network's 10 million combined unique visitors a month and allowing marketers to make large-scale purchases.
The companies have partnered with New York-based 24/7 Real Media, a digital technology firm, to handle the delivery of the ads.
Derek Reisfield, a former CBS executive and founder of Marketwatch, has been appointed chairman of BBN.
"The partnership is trying to satisfy the need for a wider audience for a medium that is measured so much on ROI," says Evan Kramer, vice president of online sales for Nielsen.
Both Reisfield and Kramer hope to open BBN up to other b-to-b publishers later this year.
Tough Times
The venture comes at a decidedly tumultuous time for b-to-b publishers. Nielsen recently laid off an undisclosed number of staffers at its business media unit as part of an overarching restructuring plan that aims to eliminate roughly 4,000 jobs. That same week, Ziff Davis Enterprise CEO Steve Weitzner announced a salary and hiring freeze, right around the time when the final 2007 Business Information Network numbers were released, showing an overall advertising revenue decline of 2 percent in 2007 following essentially flat numbers the year before.