The U.S. business-to-business exhibition industry once again posted gains in the third quarter of 2015, growing 3.1 percent, according to The Center for Exhibition Industry Research's (CEIR) measurement index, which takes into account gross revenue, net square feet of exhibit space, total exhibitors and profressional attendance figures.
The industry has grown every quarter since early 2010, according to CEIR, but gains in 2015 have dwarfed those in recent years, with the index averaging quarterly year-over-year increases of 3.8 percent and outpacing overall GDP for the first time since 2013. Expansion slowed slightly in the third quarter compared to the first half of 2015, but still handily beat the quarterly increases from 2011 to 2014.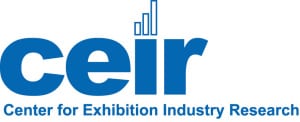 Like in the first and second quarters, gross revenue saw the largest surge, up 4.6 percent from last year. Square feet followed at 3.3 percent, with exhibitors and professional attendance rising 2.9 and 1.6 percent, respectively.
B2B exhibition revenue suffered deep declines in 2008 and 2009, falling as much as 12 percent in Q2 2009, but has since rebounded alongside the overall domestic economy.
Live events are the strongest source of revenue for B2B media companies, accounting for 44.6 percent of revenue in the first half of 2015, a figure that has generally remained consistent even as digital advertising revenues continue to eat away at print.
The CEIR index examines performance metrics across fourteen industry sectors, including consumer goods, financial/legal/real estate, government, building/construction, and medical/health care, among others.