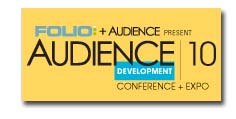 When it comes to e-mail marketing, b-to-b publishers have a few advantages that consumer publishers don't necessarily have, especially when it comes to combining it with social media.
 
During the "E-mail Marketing Survival Guide" session last week at the 2010 Audience Development Show (co-located with the FOLIO: Show), Lou Ann Sabatier, owner of Sabatier Consulting, and Gloria Adams, senior vice president of audience development at PennWell Publishing, discussed best practices to ensure higher open rates, such as what subject line words are considered the kiss of death. (One of them happens to be "help.") One thing, however, attendees won't regret adding is some type of social media connection.
"Today, e-mail and engagement go hand in hand," Sabatier told attendees. "When it comes to social media use in the b-to-b space, 78 percent of the business world are using Twitter and are microblogging, 65 percent have created a presence on a social network and 47 percent have a corporate or brand blog and 39 are using social bookmarking. And if you marry e-mail with social media, you'll be able to increase brand awareness. I've had clients that have seen a 25 percent lift in response when the email in question allowed the customer to travel to a social network."
While the idea may not sound all that revolutionary, it's not easy for consumer publishers to carry this best practice out because most of their readers stick to one or two "worlds," whether that's a Web site, blog or RSS feed. For b-to-b publishers, however, customers tend to go back and forth, according to Sabatier.
"The audience crossover for consumer is maybe about 25 percent," she said. "But in b-to-b, you have 80, 90 or 100 percent that are moving back and forth. E-mail and social media are not tactics—they're part of a strategy. There is not an email campaign that I do that I will not say 'How does social media fit into this in order to [create] buzz and move beyond what my current goal is?"
Sabatier also stressed the importance of having mobile and social media capabilities included in each email campaign. For social media, it's as simple as having "share" buttons appear at the bottom of the e-mail. For mobile, it's about making the e-mail available in whatever format the consumer chooses, whether it's an iPhone or a Blackberry, as well as being mindful of HTML use.