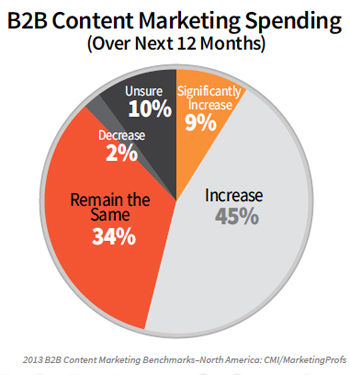 If content is king, then content marketing is a king's trade.
According to new research from the Content Marketing Institute and MarketingProfs, b-to-b marketers, on average, are spending 33 percent of their marketing budgets on content marketing—a 7 percent jump since 2011. About 54 percent say they plan on increasing content marketing spending next year.
While more and more b-to-b marketers are turning to content marketing, just 36 percent of respondents say they believe they are effective at content marketing. The data saw a total of 1,416 respondents from North American companies and represented a full rage of industries, functional areas and company sizes.
B-to-b marketers continue to rate in-person events as the most effective tactic they use, with 67 percent believing so. About 64 percent of respondents said case studies are an effective marketing tactic, which inched slightly past Webinars and Webcasting at 61 percent.
In all, 91 percent of b-to-b respondents use content marketing and, in general, the larger the company the more tactics used. Articles on a website ranks among the most popular content marketing tactic at 83 percent followed by newsletters at 78 percent. Print magazine use, the study finds, stayed the same at 31 percent.
Video seems to be the new darling of the content marketing world, with a whopping 70 percent saying they use video, up from 52 percent last year. Research reports as a content marketing tactic also saw a jump—going from 25 percent in 2011 to 44 percent in 2012.
Social media is a rising platform b-to-b marketers are using to distribute content—about 87 percent are using networking platforms, up from 74 percent last year. On average, b-to-b marketers us 5 social media sites to distribute content, with LinkedIn being the most popular at 83 percent, followed by Twitter at 80 percent. Pinterest is also being used by more than 25 percent of respondents.
Social media is increasingly being used to measure the effectiveness of content marketing, with 45 percent using social sharing as a measurement tool. While social is on the rise, b-to-b marketers are still looking at more traditional benchmarks—about 60 percent of b-to-b marketers still use Web traffic to measure content marketing success, with 51 percent looking toward sales lead quality.
Producing enough content is the biggest challenge faced by b-to-b marketers, with 64 percent of respondents saying they face this challenge. While challenges surrounding content marketing do exist, the research provides a profile of a best-in-class b-to-b marketer: