The B-to-B Benefits of Pursuing Mobile Ad Sales

Tips for publishers building out their mobile advertising sales operations.
When the Interactive Advertising Bureau (IAB) released its "IAB Internet Advertising Report" in October 2013, one thing was clear: While digital remained strong, it was mobile that was quickly becoming a powerhouse.
According to the report, in the first half of 2013, total mobile revenues surged 145 percent to $3 billion from $1.2 billion a year ago.
Selling mobile is big business for media publishers. Some are reaping the rewards of early adoption, while others have finally realized dragging their feet in complaint is no way to operate in today's market.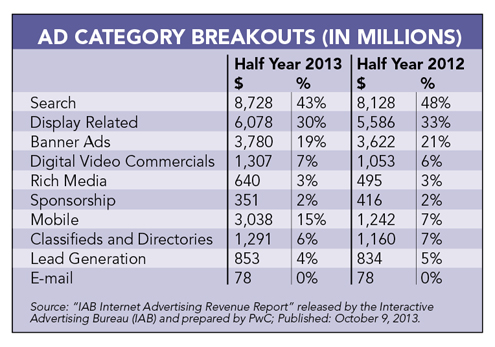 "I see dollars being devoted to mobile increasing every month," notes Sean Griffey, co-founder and CEO of Industry Dive, a mobile-first b-to-b publishing startup. "Mobile is a huge component of the landscape we're in now. This is the new normal."
Media companies, especially in the b-to-b sector, are often hesitant to adopt mobile advertising strategies because they claim they either cannot make money or do not know how to make money using the platform.
Griffey says that these excuses are hang-ups costing b-to-b brands, especially when compared to their consumer counterparts. While that is true, mobile advertising goals are divided between the sectors. Consumer brands may just want impressions and eyeballs, while b-to-b brands should be concerned with lead generation and conversion.
"Our mobile campaigns often lead to mobile landing pages and mobile capture," Griffey says. "We have to spend time on education because mobile sales isn't just a display ad, but the conversion."
Leads remain advertisers' most prized measurement, followed by impressions and clicks. These "imperfect metrics" are still the ones, Griffey contends, advertisers want to know so they remain what mobile campaigns ultimately drive toward.
A profitable tactic using pure mobile ads that can move these metrics are Facebook and Twitter-style models, which incorporate the ads within content feeds.
Educate and Support
Griffey maintains education, training and support are at the heart of any successful mobile advertising sales operation and marketing approach.
"From a tactical standpoint, you need to be ready, able and willing to talk mobile and educate [marketers]," Griffey says. "There's also the support publishers need. With a new mobile campaign, you need an operations team on the backend to help traffic and run the ads and help create and modify them."
Also important to remember, Griffey says, is that especially for marketers, mobile means more than just eyeballs and impressions. Email newsletter campaigns, Website leaderboards, apps and more are important tools in optimizing any mobile campaign.
"They say 50 percent of all mobile campaigns are wasted," Griffey notes. "Most just don't know from where."
Employing a mobile advertising operation and effectively utilizing a mobile advertising operation are two very different undertakings.
"If you believe in mobile as part of the future, what you have to really invest in is the operations behind it within your team and not wait for the dollars to come in first," Griffey says.
Meet the Author
---