B-to-B Ad Network Adds Six New Publishers

BBN audience grows to 35 million with addition of Advanstar, others.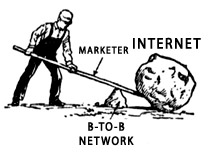 BBN, the b-to-b advertising network that launched early last year, has bolstered its roster with the addition of six new publishing partners: Advanstar Communications, NewBay Media, Penton Media, Questex Media, United Business Media and Owen Media.
With the new additions, BBN says it reaches 35 million b-to-b buyers. According to UBM's Kate Spellman, senior vice president of marketing strategy and business development at Everything Channel, "BBN has allowed us to reach non-endemic advertisers in a turnkey solution [that] directly impacts the bottom line."
The network was created last April as part of a collaboration between Cygnus Business Media, Nielsen Business Media, Reed Business Information and McGraw-Hill. The idea was to target advertising dollars normally outside the b-to-b realm, flexing the network's combined unique visitors a month and allowing marketers to make large-scale purchases.
Ascend Media, Hanley Wood, Incisive Media and Vance Publishing joined the network in September.
Meet the Author
---