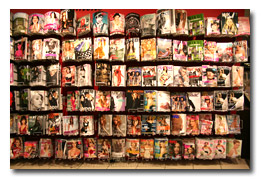 [EDITOR'S NOTE: This article has been updated since it was originally posted to clarify the survey's sample. See update below.]
United Hemispheres has the most affluent readers; Soap Opera Weekly has the least affluent. Teen Vogue has the youngest readers, although they're not teens; American Legion the oldest. Bridal Guide has the highest passalong rate of any magazine.
This, according to the results of Mediamark Research Inc.'s fall survey of 223,672 adults, released today.
The median household income of those surveyed by MRI was $57,711, up 4.1 percent over MRI's fall 2007 survey. But despite a push by some publishers to reach high-end readers—and their advertisers—few magazines manage to do so. Of the 250 or so titles included in the survey, just 19 reach an audience with a median household income of $100,000 or more, with United Hemispheres ($127,571), Veranda ($119,736) and the Economist ($118,146) topping the list.
Soap Opera Weekly ($32,163) and Soap Opera Digest ($39,153), Cooking Pleasure ($35,460) and Reader's Digest's Selecciones ($39,980) were among the magazines with the lowest-earning readers, while WWE ($40,003), Latina ($42,217) and Vibe ($43,374) were not far behind.
In terms of age reach, just seven magazines—Teen Vogue (at 25.8, not exactly teens), Seventeen (26.9, or 9.9 years older than the name implies), Vibe (28.6), Game Informer (27.2), Blender (27.7), Maxim (29.1) and OK! (29.3)—have readers with a median age under 30.
UPDATE: MRI's Fall Study surveys adults ages 18 and up; when combined with MRI's Teenmark study of readers 12 to 19, the median ages of the readers of the magazines above are as follows: Teen Vogue (18.4), Seventeen (20.6), Vibe (26), Game Informer (20.6), Blender (25.9) and Maxim (28).
On the flipside, AARP—not surprisingly—and American Legion have readers aged 60-plus, with Arthritis Today (57.2), Catholic Digest (56.9) and Guideposts (56.0) on their heels.
Overall, the median age of a magazine reader was 45.1—up from 44.8 in 2007.
Bridal Guide averages 25.71 readers per copy, according to MRI, while Soap Opera Weekly (19.51) and a number of niche auto books including Truckin' (25.22), Super Chevy (18.51) and (17.93) claim high pass-along rates. The 1.9 million circulation Endless Vacation, meanwhile, actually averages less than one reader (0.95) per copy, while More (1.24), AARP and American Legion (1.44) and Inc. (1.82) average among the fewest. In fact, just six titles average less than two readers per copy.