AutoWeek Cuts Frequency

As auto industry suffers, weekly magazine to publish biweekly.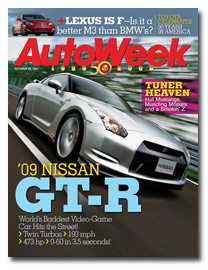 AutoWeek no longer will be a weekly magazine.
Publisher Crain Communications has reduced its frequency to biweekly effective with the January 5, 2009 issue.
"Modifying the frequency of the magazine's distribution allows us to focus on more comprehensive editorial features and vehicle reviews," said AutoWeek vice president and publish KC Crain. "At the same time, we'll be enhancing our ability to deliver the best automotive lifestyle content through the magazine and on Autoweek.com."
AutoWeek's frequency reduction comes during a perilous time for the auto industry. According to custom automotive statistical data provider Autodata Corp., there were 838, 156 light vehicle sales in October, down 31.9 percent from the same period in 2007. Year-to-date, sales are down 14.6 percent.
Through the first nine months, the automotive advertising category suffered the most severe declines, according to the Publishers Information Bureau, with pages falling 23.6 percent and estimated revenue dropping 19.9 percent.
AutoWeek—which has a circulation of 259,000—saw ad pages fall 7.1 percent through the first nine months.
Meet the Author
---