Australian Men's Magazine Loses 130,000 Inflatable Breasts

Editor: 'We want our boobs back.'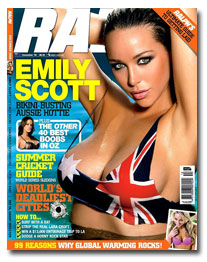 You can't make this stuff up.
Ralph, an Australian men's magazine, has lost a massive shipment of—wait for it—inflatable breasts. The 130,000 fake breasts, worth roughly $150,000, were to be inserted (deflated, presumably) in the January issue of the magazine (take that, Esquire).
The shipment was packed aboard a boat that left Beijing two weeks ago, a spokesperson told England's Telegraph newspaper. The magazine issued an alert to area shipping authorities but has had no sign of the blow-up breasts.
"If anyone finds any washed up on a beach, please let us know," Ralph editor Santi Pintado said. "We want our boobs back."
Meet the Author
---