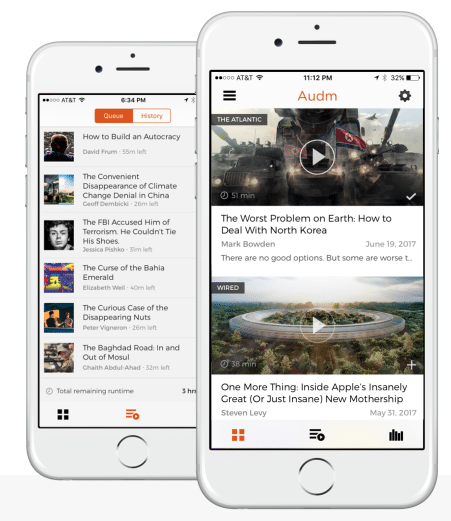 After years of slow growth in the podcast sector, audio is suddenly the hot channel. Wearables, in-home voice assistants/ smart speakers and a podcast boom all suggest that the future of digital distribution may be hands and screen-free.
Turning print into digitally distributed spoken word content has a long online history. Veterans of the space may recall that online audiobook pioneer Audible once featured full magazine and newspaper readings within its subscriber service. According to The Economist, the audio edition of its app content remains one of its most popular features. In recent years, Apple launched Spoken Editions that wove into its podcast feed audio versions of branded media web stories. In the last year, mobile-first start-up AudM (pronounced "Autumn") has mashed up several of these preceding ideas into a $7.99/month premium service that lets users listen to longer-form journalism from the likes of The Atlantic, Wired, Esquire, New York Review of Books, Harper's Bazaar and digital natives like BuzzFeed News and The Daily Beast.
The difference between Audm and podcasting, however, is curation and an eye for deeper content that is read well. "We are not about news or getting any article in audio, says co- founder Christian Brink. "We take the best writing that's been done. What Apple is trying to do in Spoken Editions is really about people consuming content in a constant feed. Audm is about the very best and getting narrators that cost way more than narrators for Apple." The paid subscription models help underwrite a pool of about 10 narrators who are matched to specific articles.
Brink sees this project as a way to make sustainable in the digital era the best part of the magazine model—its journalism. "The notion that everything is going to be short form is ludi- crous," he argues. The current mobile mode of dashing through a feed for quick news content hits is "but a moment in the digital age. There is going to be a correction," he believes. "That correction will lift up the best storytellers."
The typical programming week in Audm provides five to seven hours of content, eight to 12 new articles a week averaging about 38 minutes each. Usage patterns break down into three major types. Most commonly, people use the app during commuting hours and often will consume much of what is in the feed. Another group checks the feed several times a week to build a playlist. And some listen only when a specific article interests them.
For audio versions of deeper magazine pieces, partner publishers usually provide the text to Audm in time for the company to choose the right narrator, research for pronunciations, and have the version ready to match the street date of the issue.
"The process is pretty seamless," says Kim Lau, SVP, Digital and head of business development at The Atlantic. "We let them know as far in advance what content we have coming. About a month from it appearing online we give them an embargoed PDF. We have the ability to review it if we want." The Atlantic has been one of Audm's earliest and most prolific publishing partners since early this year.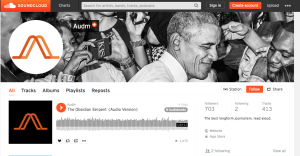 Lau has discovered that including audio in digital rights agreements is not always the default, so publishers need to be aware of that caveat. While it is still early in The Atlantic's audio journey (they just launched their first podcasts this year), Lau says they are exploring their audience's taste for this channel and the degree to which listeners are willing to pay for it via premium services like Audm.
Audm's premium model works with publishers in a way similar to Texture and other aggregators. "The partnership model we think is most promising and are pursuing with most publishers is a revenue share model where we allocate a certain amount of revenue to a pool that is divided up by publisher based on time spent," says Brink.
As a business, Audm is already "nearly profitable," he claims. The math on a subscription- based model is pretty straightforward. "With fewer than 15,000 subscribers we can be a nice lifestyle business." But the goal for the end of 2018 is to hit 100,000 paying customers. And so far Brink has seen considerable passion among users for paid audio. "We are very confident we can charge more than $7 a month."
Marketing has been modest so far, as the company locks in the content Brink thinks makes for "the bundle you want for premium journalism." In 2018, Audm will be looking to expand into bringing new content sources and types into the mix.
As a proof of concept, however, that longer form magazine content has another digital life off of the screen, Audm appears to be working. The Atlantic's Lau at least seems to agree with the basic premise of the idea – that the best magazine journalism resonates everywhere. "The biggest thing we have seen is that blockbuster pieces of content do well across all plat- forms. Great content is platform agnostic."