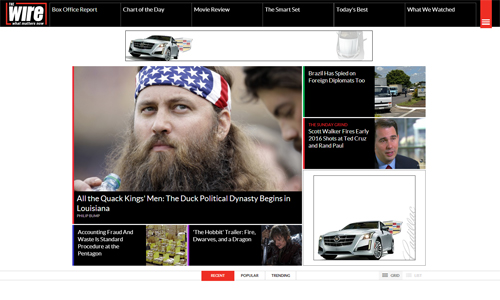 The Atlantic Wire, previously a content product closely aligned to The Atlantic, has been spun off as an independent brand called The Wire. The site, which aggregates and reports on the latest news, is taking a chapter out of other standalone brands that have launched out of Atlantic Media, such as Quartz and Defense One.
"It's less about removing The Atlantic from the name and more about establishing The Wire's independent identity in both form and function," says M. Scott Havens, president of The Atlantic. "Over the last four years, The Wire has grown and evolved and has now established itself as a go-to news platform for millions of readers. We believe the platform is ready for its next 'step-change.' Simplifying the name to The Wire (the name many people already use), redesigning the content and advertising platforms for the mobile age, and investing in dedicated sales resources are all critical to realizing the type of scale and impact we believe the site is capable of achieving."
With about 6 million monthly uniques, per Omniture numbers, traffic is up 100 percent from a year ago, says the company. That scale has earned it the chance to delineate its editorial mission and form its own sales team.
Atlantic associate publisher of sales strategy and operations David Minkin will add head of sales and marketing for The Wire to his responsibilities, leading a dedicated sales team.
The Wire has also cultivated a unique audience, says editor Gabriel Snyder. Overlap with The Atlantic is in the single digit percentages, he says. "The next step of launching it on its own two feet and putting it out there is an acknowledgement of the success we've had in setting an editorial voice and building a unique audience."
Snyder adds that the responsive design will allow the content staff to continue to expand its story-telling toolset. "One of the things we've tried to do is not rely on text as our story-telling device. We're trying to use new tools—charts, gifs, quizzes and so on—and have tried to make that less of a special project territory and more of a toolkit for everyday coverage."