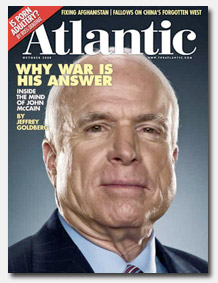 The Atlantic photographer who posted spooky manipulated photos of her shoot with Republican presidential nominee John McCain on her own Web site has drawn the ire of the Atlantic and McCain camps, but—perhaps not surprisingly—a mixed reaction from the design and photo community.
Here's a quick summary for those who haven't been following this made-for-election-year media saga. Jill Greenberg—the photographer and noted monkey retoucher who has done cover work for Time, Fast Company, New York, Wired and Portfolio and a slew of other titles—was hired by the Atlantic to shoot their October cover. During the end of the shoot, she apparently made McCain stand above a strobe light, snapping some ghostly shots before he left. "He had no idea he was being lit from below," Greenberg, a self-proclaimed "hard core Democrat," told Photo District News a few days ago.
She posted the extra shots on her Web site (with the fitting manipulator.com URL) this week—apparently after the Atlantic's two week embargo was lifted—adding blood, shark's teeth and other elements (one caption read: "I am a bloodthirsty warmongerer"; see more shots here). UPDATE: A rep for the Atlantic says Greenberg posted the photos before the embargo had passed.
And, understandably, the Atlantic and McCain camps were outraged. Jeffrey Goldberg, who wrote the cover story for the Atlantic, called Greenberg an indecent person who should not be working in magazine journalism. James Bennet, the Atlantic's editor, told the New York Post the magazine was "totally blindsided." (The Atlantic is refusing to pay Greenberg, Bennet says, and is looking into legal action.)
But judging from some of the comments on the PDN site, the reaction was decidedly more mixed. A number of commenters slammed Greenberg for her lack of professionalism ("unprofessional, derogatory and a slur on decent photographers everywhere," one wrote). But others defended Greenberg:
[G]reenberg delivered what her client (the magazine) asked her to do—a hero shot of [M]c[C]ain. [F]or proof, one need look no further than the actual cover of the magazine. [N]ow, [I] know that most people commenting here probably have never actually been paid to take a photo, but here's a secret: for this kind of job one owns one's own negative. [S]o that [G]reenberg decided to mess around with her own copyrighted material having done exactly what was asked of her by her client is utterly appropriate, and she has acted as a consummate professional. … [I] find it hard to believe that on PDN other photographers are begrudging someone their artistic (and legal) license.
What do you think? Did Greenberg cross a line? And should magazines vet their photographers' political peccadilloes before hiring them to shoot politicians? Post your reaction in the comments section below.