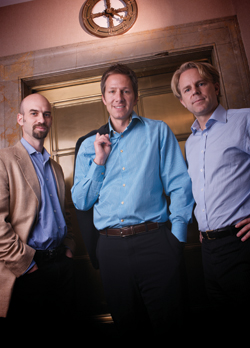 The Atlantic's May cover story was classic Atlantic: a provocative think piece with the coverline, "Is Israel Finished?" that explores the future of Israel. But the story wasn't over in print. During the weekend of May 12, author Jeffrey Goldberg snagged an exclusive interview with Democratic frontrunner Barack Obama, who wished to express his stance on Israel, after the potential campaign killer of receiving an unsolicited endorsement from Palestinian terror group Hamas.
Sitting on such an interview for the next month's issue was obviously unthinkable and Goldberg posted the follow-up interview on his blog at www.theatlantic.com. The blog prompted a firestorm in both political and media circles: Republican House Minority leader John Boehner apparently twisted Obama's statements from the interview to make it sound like the candidate had insulted Israel; left-leaning Glenn Greenwald of Slate.com called Goldberg's interview more of an "inquisition" for trying to nail down Obama's stance; and The New York Times published an in-depth examination of the piece.
The result for TheAtlantic.com? One hundred fifty thousand unique visitors in one day and a perfect example of what The Atlantic is striving for: a marriage of long-form, analytical print—its traditional bread and butter—and fast-paced, controversial digital conversations. "This is a classic example of the world we live in today—daily news and opinion in cooperation with a long-form print arm," says Atlantic Media president Justin Smith.
A Five-Year Plan For Success
The Atlantic's mythology is one of being a "beautiful loser." Founded in 1857 by a group of New England intelligentsia that included Ralph Waldo Emerson, Henry Wadsworth Longfellow, Oliver Wendell Holmes Senior and James Russell (who served as the first editor), The Atlantic (alternately known as The Atlantic Monthly despite a 10x per year print schedule) has always been an artistic rather than a financial success, revered for its editorial quality but falling short of profitability. When owner David Bradley purchased The Atlantic from Mort Zuckerman in 1999, he inherited a staggering, seemingly rudderless ship that had been taking on water (at the time, The Atlantic was losing $4 million per year). The new ownership also faced a staff that rebelled against the plan to relocate from Boston to Washington, D.C.
Under the direction of publisher Elizabeth Baker Keffer, The Atlantic spent the last eight years improving fundamentals such as circulation economics and newsstand sales. The magazine reduced its ratebase from 450,000 to 325,000 (which has crept up since then) while doubling its cover price and reducing its reliance on third-party sources of circulation. Today, circulation is one of the profit-drivers for The Atlantic.
But a rapidly changing publishing landscape demands even more dramatic moves. In 2006, The Atlantic named James Bennet, former New York Times Jerusalem bureau chief and White House reporter, as editor. In fall 2007, Justin Smith, publisher of The Week, joined as president of Atlantic Media. And in March 2008, Jay Lauf, who led Wired from the dot-com bust back to double-digit advertising growth, joined as vice president and publisher. Keffer now heads up Atlantic Live, the organization's rapidly growing events business and a key money-maker for the franchise.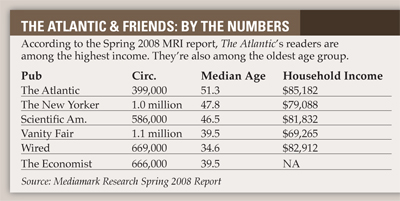 The all-star executive lineup is tasked with contemporizing the historic brand, and finally making it a business success. With last month's sale of Harvard alumni magazine 02138 to Manhattan Media, the company is fully focused on The Atlantic as its consumer business (the company also has a business-to-business side, which publishes The National Journal, Government Executive and several beltway print and digital publications that target a political audience.)
The new team has developed an ambitious five-year plan that encompasses a branding campaign, redesigns for both print and digital, and a growth drive in advertising revenue and circulation. By 2012, The Atlantic wants to double revenue and post a double digit profit margin. "Our strategy for getting to financial success will be brand-led," says Smith.
For the first time, The Atlantic has tapped an advertising agency—Euro RSCG—to develop a new branding campaign. It's also hired famed design firm Pentagram to work out a redesign of the magazine, which will be unveiled in the late fall. "We want to open up the magazine and make it more accessible," says Smith. "The Atlantic is well known for intense long form journalism but that's often delivered in blocks of text. We've looking for more imagery and graphic entry points and James is re-thinking actual components of the magazine. His guiding principal is this new brand direction."
TheAtlantic.com is also pursuing its own redesign, one that will help the Web site connect more seamlessly with the magazine (actual cross-over between the print and digital audience is small at this point). The Web site boasts the largest audience with about 2.3 million unique visitors per month. "We went from 500,000 unique visitors to 2.3 million in just 12 months, without a single dollar being spent on marketing," says Smith.
Circulation as Profit-driver
While many consumer publications face a mess on the circulation side, it's actually a bright spot for The Atlantic, which will pursue an aggressive circulation drive to expand its audience and tap some marketing strategies it hasn't used before—provided it can be done profitably. "The Atlantic has very profitable circulation economics right now—it's one of the profit-drivers we have," says Smith. "Given that the overall enterprise is still losing money, our overall business mission is to be profitable and we need to retain that positive circ margin. We also want to turn over every rock for non-traditional circulation sources."
The Atlantic has recruited Ed Fones, former head of Rodale's circulation department and a member of the Circulation Hall of Fame, to examine the company's direct mail and e-mail marketing. The Atlantic is investing in testing, new creative, new pricing offers and new list offers. The magazine is also considering tactics it normally wouldn't do like a newsstand polybag that will tie in with the October issue prior to the election, as well as free-standing inserts and package inserts.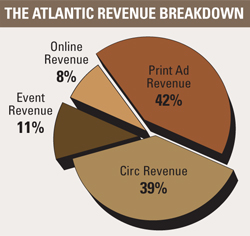 "Look, between now and 2012, I don't ever see this as being a mass title—The New Yorker sells a million copies, I don't see us getting anywhere near that," says Smith. "We will look at low double-digit increases on an annual basis if we can keep it profitable. But digitally—we want to double the number of users there into the 5 million range."
The Atlantic typically sells 45,000 to 50,000 copies per month (per ABC), with the majority going through bookstores, followed by airports. The magazine has experienced a slight drop in sell-through over the last 12-18 months, driven by a few specific issues (most notably the infamous "Britney" issue—more on that later) but the current cover is looking at an 18 percent increase year-over-year.
Planting the Ad Sales Flag
As with its readership, The Atlantic is looking to appeal to a wider range of advertisers as well. The initial step was to relocate the sales team from Washington, D.C. to New York City. "New York is the capital of publishing and advertising, and we wanted to plant the flag here and be close to our clients and competitors," says Smith. "We've ramped up on the edit side, what we're doing in this next stage is making the talent destination on the business side." Publisher Jay Lauf currently has 15 vacancies on his team.
All sales will be integrated with a single team handling print, digital and events, including staple programs such as The Atlantic's State of the Union package and the upcoming Ideas Issue, a new franchise that ties in with The Aspen Ideas Festival. "Engagement is a word that's overused but what advertisers are looking for is engagement and access," says Lauf. "Plenty of magazines can get you impressions but not everybody can get you 'engaged,' and that's what they expect from us, that deeper engagement. We can say that with as straight a face as anyone in the market. We have one of the cleanest ABC statements and one of the best editorial franchises, which creates a natural draw for the audience."
The draw for advertisers has been unduplicated reach to a well-educated and influential audience. However, that same demographic also makes The Atlantic a secondary buy for some brands. Now, brands are looking for the franchise—particularly TheAtlantic.com—to fill the void. "Polo Ralph Lauren deepened its relationship with Atlantic Media by shifting from a print advertiser to a sponsor of the Aspen Ideas Festival," says Liz Paley, vice president of advertising and wholesale marketing for Polo. "I believe the online expansion and success of Atlantic Monthly will afford us new opportunities to speak to their audience in another way."
Dow Chemical Company has worked with The Atlantic for the last two years. "The type of content and ideology that has made The Atlantic what it is today seems to live most comfortably in print and with those that still put stock in the printed word," says vice president of global affairs Patti Temple Rocks. "People consume and are receptive to The Atlantic when they are in an engaged and engrossed mindset. The question is…how can The Atlantic, and its advertising partners, be present at other times when people are in that mindset?"
The Atlantic has raised advertising rates (approximately 30 percent on the print side and doubling online). Reaction to the hike has been mixed. "The initial response is kind of what it always is with a rate increase—certain advertisers wring their hands and take it hard, others kind of understand it," says Lauf. "We even heard one national advertiser, say, 'It's about time.' All in all it's understood but people won't go down without a fight."
For 2007, The Atlantic posted a 7.9 percent increase to $33.2 million in ad revenue while ad pages for the year dropped 1 percent to 636, according to PIB. However, through April 2008, ad pages dropped 14.3 percent to 145, according to the Mediaweek Monitor. Lauf blames the state of transition for the softness. "The rate increase might have played a part of it but in this marketplace—general interest-thought leader magazines—none of them are doing well for first quarter," he says. "We are a little worse than some. What I see moving forward is the opportunity for that to turn around. We're not disastrously down and June is up over the year before. July/August will come in to close to goal on print. The early indications are that the fall looks pretty good. On the digital side, it's the opposite—we're up over 100 percent year-to-date and we will far exceed our goal there. The Atlantic as a digital vehicle is really just starting to catch on."
From Intellectual Recreation to "Modern Intelligence"
Some of the most important changes for The Atlantic will occur on the edit side as the franchise seeks to both clarify its mission and appeal to a wider audience. "To contemporize the brand, we want to take the great intellectual history and tradition slightly away from intellectual recreation and shift it toward more of a modern definition that shifts the way you see something, that changes your perception of the world," says Smith.
That includes a shift from the political-centric focus that has dominated the magazine in recent years. "In the immediate post-9/11 period, we've been perceived as being more focused on politics and policy," says Bennet. "We're now getting back to a wider range of topics including the disruption of the Internet, more science writing and more business writing."
The magazine redesign will focus on making the book more accessible, including more points of access and more shorter pieces upfront as well as traditional features. "The feeling is that the design now is elegant but it doesn't capture the energy of the writing in the magazine and that it can be a little inaccessible and intimidating," says Bennet.
Another key is bridging the gap between long-form print and digital content (and that doesn't mean just posting print stories—The Atlantic found that 75 percent of online viewers stop reading feature stories after the first page). "There is real brand consistency in doing something in 5,000 words in print and doing it rapid-fire blog-style," says Smith.
The Atlantic has made a dedicated push for edit talent, particularly on the digital side. The Huffington Post referred to its current lineup as the "New York Yankees of bloggers." Editors are expected to write for both print and digital. "Someone like Andrew Sullivan epitomizes our integrated Atlantic journalist," says Smith. "They write blog posts seven days a week but they will write important thought pieces for the magazine."
TheAtlantic.com has introduced a section called The Current, which consolidates news headlines, and is making a community push as well. Last fall, The Atlantic called on readers to submit 200-word essays online for inclusion in a future issue. "They tell me we have the most educated readership among magazines and I'm eager to put those readers to work," says Bennet. "We have a lively letters section—they tell us what they like and give us hell on what they don't like and the writers respond. I don't think we're doing that nearly enough online, due to technical limitations. If we're doing our job we're provoking and stimulating this all the time."
But long-form print will remain the core. "It's ultimately what differentiates the magazine," says Bennet. "In some ways, the Web has turned out to be a kind of a wonderful complement to what we do in the magazine, which is make provocative, deeply reported, highly polished provocative arguments. Online you have a very turbulent combat of ideas in real time. It's not highly polished, it's not copy-edited, and the ideas are shaped in the course of the debate."
The Dangers of Casting a Wider Net
Any time a brand with a loyal following makes significant changes, it leads to criticism. Bloggers and the media excoriated The Atlantic for trying to turn its 150th anniversary party—held last November at New York University's Kimmel Center—into an awkward and pretentious piece of theater by putting the VIPs (which included musician Moby and Mayor Bloomberg) on a stage together while the rest of the 600 or so attendees watched from afar.
Then came the April 2008 issue, which featured tabloid staple Britney Spears on the cover in a story titled, "The Britney Show." Once again The Atlantic took a lashing from the press for what was perceived as a sell-out, even though the story wasn't about Spear's latest follies but how the paparazzi business has developed around her. "There were a lot of trades and blogs saying, 'Oh this is a newsstand gambit, The Atlantic is selling its soul to sell more copies on the newsstand,'" says Smith. "We were getting frustrated because all our internal numbers had indicated this wouldn't be a good seller. It's a standard Atlantic piece, about media and culture. And sure enough to our predictions, it bombed on the newsstand."
Many readers were piqued as well. "Some core subscribers said they hated it, some people liked it," says Bennet. "One reader wrote me and said, 'I can't believe it, The Atlantic has debased itself by putting Britney on the cover, you've lost a subscriber.' I wrote him back and said, 'Listen, could you please read the story then judge whether it's up to our standard?' He read the story and sent me a very nice note back. I'm not going to pretend like the adjustment isn't bumpy, but in general, the pieces we're doing are the pieces our readers expect from us."
The Atlantic has to change while preserving what worked all along. "When people hear we're relaunching the magazine or the Web site, they immediately assume you'll trash all the good stuff," says Smith. "That couldn't be further from the truth. We're building off 150 years of incredible content and impact from design to edit. We would fail if we didn't build on the strength we already have."
And make no mistake, the end game is to be a financial success. "Every news organization in the world is going through a version of this now," says Bennet. "What we've been doing for 150 years matters but by definition, that argument doesn't carry water if we can't make money. That means you're saying there isn't a market for it. I feel a lot of pressure to prove this theory and we should feel it."
SIDEBARS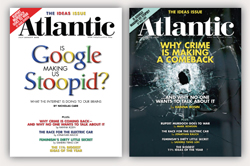 "New Atlantic" Versus "Classic Atlantic"
As The Atlantic courts a new audience, it's presenting a shiftin editorial tone. For the July/August issue, editor James Bennet hadto choose between two cover story prospects. "One is a crime story, aterrific, highly original piece by Hanna Rosin that looks at thedisappearance of housing projects as contributing to an increase incrime," says Bennet. "The other is a piece by Nick Carr [titled "IsGoogle Making You Stoopid"] on what neuro science is telling us abouthow the Web is affecting our brains. Both are really strong pieces—andI think both are classic Atlantic pieces. The crime story lends itselfto a darker, scarier kind of cover. The Google/Web story lends itselfto a lighter, edgier, more provocative cover. Both are true to who weare. Both reflect the basic identity of the magazine. In the end, we'regoing with the story that we hope will reach a wider audience on thenewsstand." And that's the Google story.
Behind the Scenes of Atlantic Live
The Atlantic's events arm, Atlantic Live, is a "large, seven-figure business" that is profitable and growing rapidly, according to unit head Elizabeth Baker Keffer. In 2008, Atlantic Live expects to produce between 100 and 125 events (with a staff of nine). Events run the gamut from value-added to sponsored.
"The appetite for events is larger than ever," says Keffer. "We think about events as larger editorial platforms." The Atlantic hosts a State of the Union gala at the Library of Congress in the January/February timeframe, which draws four or five sponsors every year. Atlantic Live also hosts a series of smaller custom events including salon dinners for companies such as GE, Microsoft and BMW. The salon dinners usually feature a single sponsor and an attendee list of 20 to 50 VIPs that the sponsors want to reach. Panel discussions may have an audience of 100 people while town halls could draw up to 400.
Many of the events tie directly into the magazine and Web site. Atlantic Live is currently preparing for its flagship event, The Aspen Ideas Festival, which will tie into The Atlantic's July/August Ideas issue. "This year we will try out some of magazine content at the Aspen Ideas Festival," says Keffer. "TheAtlantic.com will also be reskinned as an ideas channel while we're out there."
The festival will be held June 30 through July 6 and reaches about 3,000 people. It also has 240 speakers and celebrities, including Bill Clinton and Lance Armstrong. "It's a group of speakers that's a who's-who in their particular subject area," says Keffer. The festival also features lighter fare for residents and vacationers in the evenings. A four-day pass costs $2,000.
The 2008 Aspen Ideas Festival has sold its most sponsorships ever (10, including Allstate, Boeing, Chevron and first-timers Intel and Mercedes Benz) and will be up 20 percent in revenue this year. "We'd love to create another one or two of those over time as part of our growth plan," says Keffer.
Sponsorship costs depend on several factors—how much travel is required, how may attendees there will be, how many staffers are needed— but the typical range is $100,00 to $500,000. Going forward, Atlantic Live is looking at ways to expand its smaller events to a larger audience. "We're experimenting with doing some salons on the record and doing writeups afterward," says Keffer. "We just did one with Siemens where we shot video and we're creating a microsite with comments about the events. That's a trend—how to extend our events into other areas of Atlantic Media and to a wider audience."