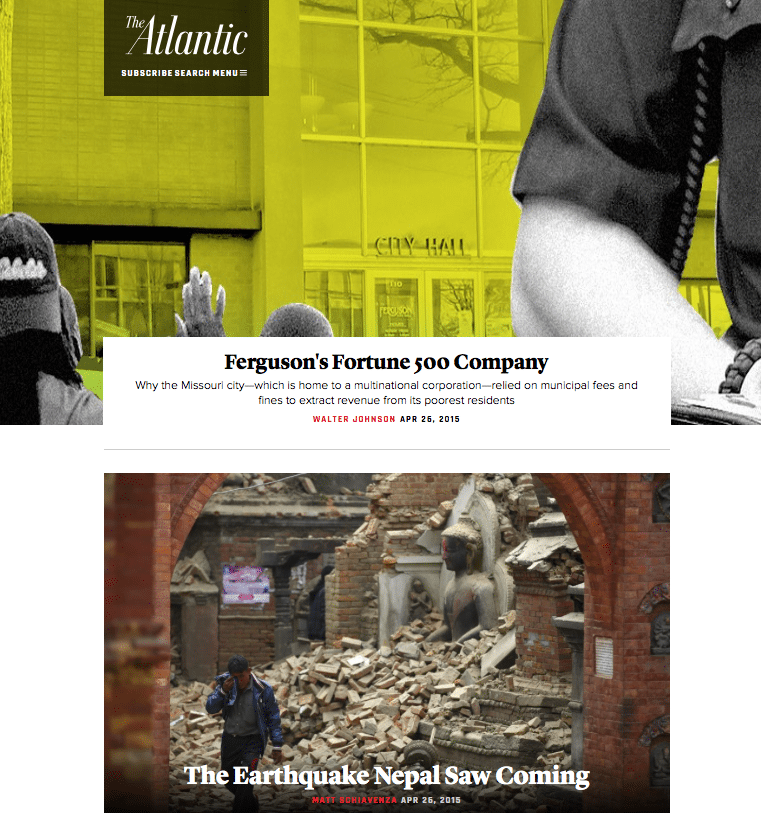 The Atlantic launched its new responsive-design site last week and with it came a new focus on the mobile user, which now accounts for more than half of its visitors.
A cleanly designed responsive site is hardly a surprise these days, but for the 158-year old brand, it also signifies where it's heading. In the past year, The Atlantic has seen a major shift in how readers are accessing its site. Its mobile audience has grown 90 percent year-over-year, and the brand expects even more growth in the coming months. What's more, legacy media is now taking a backseat to new revenue streams.
Digital advertising now accounts for more than half of the brand's revenue, followed by events and then print, according to a spokesman. And the new site will leverage that business model more effectively. It features full-width, customizable responsive units that can run throughout the site and can include interactivity. It also has more inventory placement options for advertisers.
The new site only took its in-house team six weeks to develop, however its architecture gives The Atlantic a lot of flexibility in how content is presented on any device in any format. Not only does that help its editorial team tell stories differently, it also helps its creative marketing team, Re:Think, develop and sell innovative packages.
The new site comes at a good time for The Atlantic. The brand had its best quarter for digital traffic this year. In March alone TheAtlantic.com saw 21 million unique visitors. The quarter was also extremely successful on the ad revenue front, increasing sales in print and digital by 30 percent over prior year.
To hear Besty Ebersole, senior product director at The Atlantic, speak about enhancing your audience's experience through great design both in print and online, join us at our May 12th min day conference.