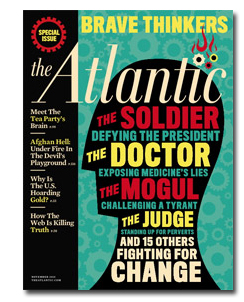 The Atlantic says it turned its first profit in decades in the fourth quarter of 2010, driven by double-digit revenue increases year-over-year in digital (up 70 percent), events (up 37 percent) and even print (up 27 percent). Overall advertising revenue grew 37 percent.
Online traffic grew 34 percent, with TheAtlantic.com and TheAtlanticWire driving a monthly average of 5 million unique visitors. The Atlantic's November issue boasted the most ad pages of any issue in the magazine's 153-year-history and out of 11 issues, eight were up double digits over 2009, according to publisher Jay Lauf. Much of the magazine's success over the last year can be attributed to custom packages, such as cover unit packages sold against The Atlantic's "Brave Thinkers" issue.
In his keynote address at the FOLIO: Show in June, Atlantic Media president Justin Smith said The Atlantic was projected to have a profitable fourth quarter and a "multi-million dollar" profit in 2011. According to Smith, the comeback was structured around creating a solid brand identity; a digital-first strategy; building a marketing services operation; expanding live events; and maintaining a relentless focus on hiring top talent.