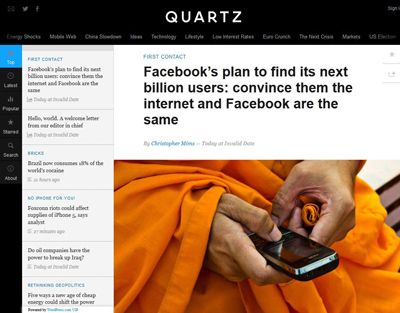 Editor's Note: This story originally appears on FOLIO: sister site MINOnline.com.
The long-foreshadowed business news and analysis site from The Atlantic Media Company made its debut this week. Quartz is at QZ.com and is designed to serve multi-national businesspeople and companies with its emphasis on international market coverage. The content will reach across straight news, commentary and lifestyle and management concerns. Current stories include a feature on Facebook's grand strategic plans, news of riots at the iPhone 5 Foxconn plant, commentary on whether oil companies have leverage in Iraq and a list of five ways cheap energy could tip the balance of global power.
The site is edited by editor-in-chief Kevin J. Delaney, who says the digital-only pub takes a "broad worldview." In his welcome note to readers, Delaney called this a 1.0 version of "a new kind of business news offering that is global, digitally native, and designed for the mobile and tablet devices that increasingly dominate our lives."
In fact the desktop visitor will be met by a site design that seems more attuned to forefinger than to mouse. The site is done in HTML5 with large buttons and functionality meant for touch interfaces on smartphones and especially tablets. A top line menu works as a touch-sensitive dial through the site's main content categories and hot topics. Registered users to the site can treat it as an app, maintaining saved favorite articles to review across devices and displays.
In an effort to chart a new course for launching editorial brands in the digital age, Quartz is also debuting in Flipboard, the mobile aggregation app. The content will be designed to show well in that app's magazine-like look and feel.
Quartz is also designed for social distribution. A mouseover on the site gives easy access to sharing across the major social networks, including LinkedIn, and to personal content vault Instapaper.
Quartz comes to the Web with sponsor support also baked in. Boeing, Cadillac, Chevron and Credit Suisse are launch partners through the end of this year when Atlantic Media will accept new sponsors.