Atlantic Monthly to Move Sales Staff to New York

Publisher Keffer to step down, remain in D.C.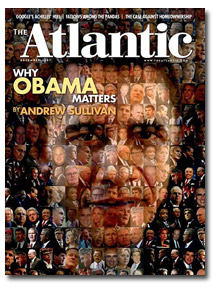 The Atlantic is on the move again. Sort of.
The 150-year-old magazine, which made its historic move from Boston to Washington D.C. under owner David Bradley in 2005, is moving its 15-person sales and marketing staff to New York City to be closer to the high-profile advertisers along Madison Avenue. All other departments, including editorial, will remain in Washington.
One staffer who won't be making the move is publisher Elizabeth Baker Keffer, who is stepping down as publisher to head up Atlantic Live, the company's events arm that produced over 100 events in 2007, including the Aspen Ideas Festival.
"She has family here," says Atlantic Media president Justin Smith, adding that while there will be no layoffs per se, some of the staff may choose not to make the move, opening up positions in the New York sales office.
Smith hopes to complete the transition by the end of the second quarter 2008. A search for a new New York-based Publisher for The Atlantic is underway.
The move, Smith says, will allow the Atlantic to attempt to build an integrated sales operation to provide prospective advertisers to buy across platforms, including the Atlantic Web site, which has more than doubled its traffic since January (1.3 million unique visitors in November, up from 500,000 in January, Smith says).
"A lot of people say they are integrated," says Smith, "but my sense is that no one is truly integrated. Hopefully we'll be able to do that now."
While the magazine has been celebrated for its editorial content throughout the years, it also is infamous for its poor financial performance. When the magazine's current ownership took over in 1999 it inherited a product that was losing money and a staff that rebelled against the plan to relocate to Washington, D.C. "At the time we bought it was losing $4 million per year and it still isn't making money," Keffer told FOLIO: in a 2006 interview.
For his part, Smith says he hopes to take the magazine into the black in the next five years.
Meet the Author
---