Atlantic Media's Government Executive Revamps Digital Strategy, Website

Changes include an increased social presence, vertical content strategy.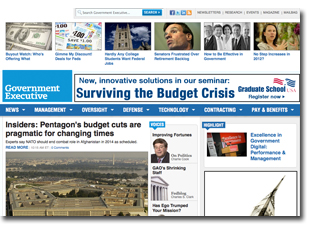 In what Government Executive Media Group president Peter Goldstone calls "a new standard for best in class b-to-b websites", Government Executive revamped its web presence. The site, rebuilt through parent company Atlantic Media's homegrown CMS, features a new commenting system, increased social media access, a vertical content channel strategy and a tighter news cycle. GovExec.com also increased its email news alert frequency, upgrading to a continuous news source for its audience of federal managers.
Tim Hartman, group publisher for the Government Executive Media Group, says the site overhaul has a three-prong approach: focus on niche community engagement; make the site more social; and become an all day resource for its users.
In order to achieve the first goal, Hartman and his staff adapted the vertical content strategy seen among other news sites like TIME, New York Magazine and sister publication The Atlantic. "There's more news in each channel, and more voices in each channel. We want to bring the entire community of contractors, federal managers, former federal managers and thought leaders together in each one of these areas," says Hartman.
Twitter, Facebook and other social feeds were directly integrated into news articles, and a new commenting system (Disqus) was implemented as well. "It's a social site by nature, and we tried to bring more tools forward so the audience would be able to share and distribute headlines on the platforms where they are the most comfortable," says Hartman. He asserts there has been a large spike in social sharing across Twitter and Facebook since these changes occurred.
In what may be the most ambitious aspect of GovExec.com's new strategy, the site now focuses on getting out more news, more often, directly to its audiences. This translates to email blasts throughout the day to its current newsletter subscribers, in subjects pertinent to subscriber interest. Government Executive's dedicated research group, the Government Business Council, examined what the publication's audiences wanted (and expected) from the news site.
"We found the appetite for news was dramatically increasing. They were not only wanting, but demanding, news alerts so they know the news as soon as it happens," says Hartman. "There's a danger of overwhelming audience with too many, but there's definitely a trend of consumers consuming news through email streams. We've had more opt-ins and great click-through rates."
Government Executive will launch a series of mobile optimized sites and mobile apps to solidify its constant news cycle.
Since launching the news site, Hartman says traffic has increased and bounce rates have lowered.
Of the revamp, he tells FOLIO:, "We really focus on engagement metrics, a key differentiator on how we approach our digital products. As a digital-first organization, you really have to be benchmarking how audiences are engaging with your content. You can make mistakes if you're not on top of how people are doing so."
In 2011, GovExec.com saw traffic increase 38 percent, and about 3,000 new newsletters subscribers signed up each month last year. According to the company, first quarter digital ad revenue is up 40 percent from Q1 2011.
Meet the Author
---