Atlantic Media's Defense One Launches App

Utility, adoption and taking the long view on mobile.
Defense One is the latest brand in Atlantic Media's government executive group to enter into the app space.
The app for the 5-month-old defense-industry news source features original content directly from its own site, as well as aggregated industry news from around the Web.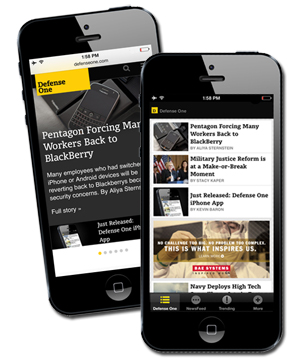 Unlike its sister titles (Government Executive, Nextgov and National Journal) Defense One was built for mobile from the start with a responsive site. Apps fill a different role though, says Tim Hartman, president of the government executive media group. They cater to enthusiast users and serve as a vehicle for engagement—a relationship that can be deepened over time.
"We've had a lot of success with the Gov Exec app," he says, noting that it's received more than 40,000 downloads and has maintained 4-plus star ratings since its launch last year. "In structuring [the Defense One app], we wanted to maintain the utility we thought we got right. So we wanted to employ tools we thought would be particularly useful for somebody on a mobile device."
Aside from the mobile traffic coming into the website—200,000 of the site's 500,000 monthly unique visitors are coming from mobile platforms—research showed that Defense One's audience frequently uses apps for news consumption. There wasn't one dedicated to this specific market though, Hartman says.
"We found a hunger in the audience that was totally underserved," he says. "If we can get them to engage and adopt [the app] as their primary source for news across the entire defense industry, we've got a much more engaged user and we've got somebody who is showing a much higher degree of loyalty to the Defense One brand. It provides the opportunity to add additional tools on that platform once we're on their mobile device. And we do plan to add tools and updates as time goes on."
The initial tools don't have groundbreaking interactivity—they're content feeds populated by RSS and an open-source code base, OpenFuego (Nextgov also launched an app with similar features in September). Push notifications and just having an icon on the user's home screen are also simple, but significant, advantages, Hartman says.
That straightforward minimalism is part of the goal for the launch. They want to eliminate as many barriers to entry as they can.
"Focus on utility, focus on the brand loyalists and do whatever it takes to get them to adopt it," he says. "Getting on their device in an app form is something you can build on in the long-term."
Meet the Author
---