Atlantic Media Launches Web App for Atlantic Wire

Initially designed specifically for Apple's iPad.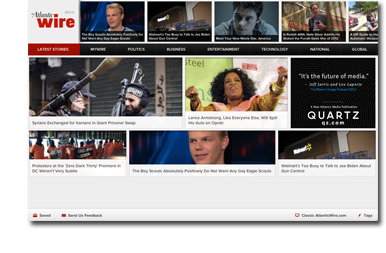 The Atlantic's aggregated news and opinion site, The Atlantic Wire, today launched a new tablet app built with HTML 5 and designed to run, for now, on the iPad.
The Atlantic Wire was relaunched in early 2011, expanding its opinion coverage to news aggregation and original reporting as well.
The app will be a web-based product, not a native app, and will include story-saving and personalization features. "The rapid adoption of smartphones and tablets foretell a near future where we need to be compatible on multiple platforms and devices. We've invested in iOS native apps but needed to start experimenting with other delivery options as well. HTML 5 was a natural next step," says Kimberly Lau, vice president and general manager of Atlantic Digital, on the decision to go the HTML 5 route.
The app is free and totally ad-supported and Lau says the beta launch will include standard ads in the app, "but we will be able to integrate other ad experiences down the line," she says. "In 2013 we are already seeing a lot of interest and demand in mobile opportunities."
According to the company, more than 27 percent of The Atlantic Wire's traffic came from mobile devices in December, with 2012 monthly uniques accessing the site via mobile increasing 210 percent year over year.
Meet the Author
---