The Atlantic Launches 'The Sexes' Gender Analysis Vertical

Multiplatform content channel designed to lure new readers.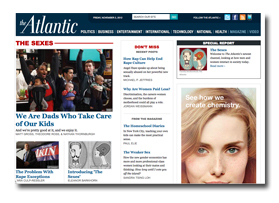 After Anne-Marie Slaughter, the Princeton University professor and former State Department foreign policy expert, penned The Atlantic's most highly trafficked article in history—"Why Women Still Can't Have it All"—the brand realized there was an unmet need in the marketplace. This week, the brand launched a new content vertical called The Sexes that examines contemporary relationships between men and women.
"The mission of the Sexes is to look at how men and women interact in society today, specifically how it is changing from the way men and women interacted 10, 20 or 30 years ago," says channel editor Eleanor Barkhorn. "One of the most amazing things about Anne-Marie's piece this summer was it brought in a whole new set of readers to the magazine and website. We are absolutely hoping to do something similar with this site."
In addition to this new online vertical, The Atlantic will feature its content in print and with live events. There is a dedicated social media presence on Twitter for the initiative—@TheAtlanticSEXS—which will be used to promote discussions about gender roles, identities and norms within the workplace, family, religion and schools. Though these topics have been covered by The Atlantic since its launch 155 years ago, the desire from readers for more coverage on the subject has increased.
"There's a big hunger for this content," adds Barkhorn. "You can see already on the channel, which launched yesterday, almost all of the articles have comments in the double digits because people really want to talk about this stuff. We thought the best way to have more content along these lines was to devote an entire channel to it."
While The Atlantic has its "Women of Washington" live event series that showcases prominent female leaders discussing their areas of expertise, Barkhorn says the company is also planning to have a summit focusing on LGBTQ issues that will compliment the Sexes coverage of gender and sexual identity, among other events.
The audience for the new channel, hopes Barkhorn, will be both men and women, existing readers or those that may interact with the brand for the first time due to this niche content. In addition to Slaughter, who has come on as a contributing editor, Barkhorn says the Sexes will feature other notable contributors that may not be gender experts, but wish to discuss gender issues as it relates to modern society.
 
Stay updated on the latest FOLIO: news, follow us on Facebook & Twitter!
Meet the Author
---