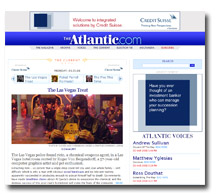 The 150-year-old Atlantic magazine, known for its long-form journalism, today launched a digital publication—the Current—aimed at those who don't have time for long-form anything.
"In print, the magazine has always been famous for its 5,000 to 10,000-word essays," says Atlantic president Justin Smith. "We're crunching that [word count] to 250-300 words."
Smith says the idea for the Current is to give the Atlantic's "marquee" writers, bloggers and other editorial staffers an opportunity to write "short essays or posts on a variety of topical subjects."
It's another step into the digital arena for a once-stodgy print brand. In January, the Atlantic removed its online pay wall, making its digital archives freely available to non-subscribers. As a result, Smith says, traffic to TheAtlantic.com has increased about 15 percent to 2.3 million monthly unique visitors.
Like Smith's former employer, The Week, The Current will also filter "the best thinking on the day's important news" from a variety of outside sources. (Smith bristled at the comparison. "Everyone's doing aggregation," Smith said. "This is much different—this is original opinion content.")
The site was developed internally, and Smith declined to give cost or revenue projections. Credit Suisse, the financial services firm, has signed on as the site's launch sponsor. "It's not the Wild West of the blogosphere," Smith said of the site's appeal to advertisers. "They're getting a very polished, highly-produced essay."