The Atlantic Launches a Digital Weekly

Paid app will feature curated content from Atlantic-branded websites.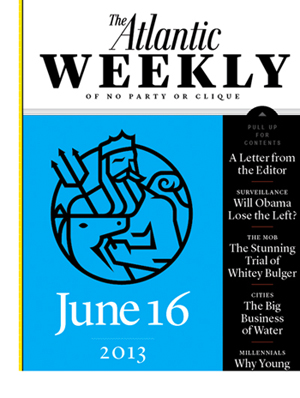 The Atlantic's much speculated move into another paid content product went live today. The brand launched a weekly digital publication called The Atlantic Weekly that will curate some of the already-published, longer-form content from the magazine and The Atlantic-branded websites.
Single copies will be $1.99, monthly subs $2.99 and a yearly sub will be $19.99. The Weekly will initially be available for iOS devices through Apple's Newsstand. Android and other platforms are on the way.
Each edition will go live on Fridays, with the specific intent of allowing readers to engage with the content over the weekend.
"It's a chance to showcase some of the pieces we do online that we're most proud of," says Geoffrey Gagnon, senior editor at The Atlantic and the editor of The Atlantic Weekly. "But because we do so many different things online, this is a chance to pull out some of those pieces in a way that rewards lean-back reading and we think the weekend is a good time for that."
The product is not intended to feature original, freshly-created content, rather it will curate content from the just-passed week from TheAtlantic.com, TheAtlanticWire.com and TheAtlanticCities.com.
The strategy puts a premium on the convenience of curation, which is the main hook for the subscription pricing. The Atlantic Weekly is being positioned as a product that re-surfaces the in-depth stories that readers may not get to during the week.
Countering the argument that the content is already available online for free, Gagnon points to content from the paid magazine that's put online, for free, once the magazine is published.
"We've already got a really good paid product that people can see for free, it's called The Atlantic magazine," he says. "We've done so well and the reception has been so good on our magazine app, we thought it was a no-brainer to continue to engage these readers on more apps."
Curation is largely done by editors, not by metrics. The more popular stories from the three sites may not make it into the weekly since they've already been seen by much of the audience.
"These will be the kind of step-back analysis pieces that have populated weekly magazines forever," says Gagnon. "These are pieces that will hold up for a week or two, or deeply reported stories that could hold up for six months or so."
Meet the Author
---