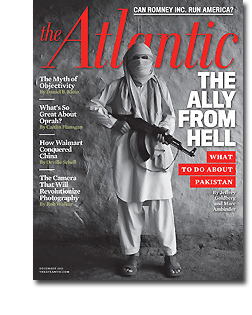 The Atlantic has some milestones to celebrate as it heads into the holiday season. The brand is reporting gains across all of its platforms—print, digital and live events—for the fourth quarter and full year, carrying it into its second profitable year in a row.
According to the company, digital ad revenue will be up 40 percent for the year and print ad revenue will edge up 2 percent. The events group, AtlanticLIVE, which includes the Aspen Ideas Festival, will post a 19 percent revenue increase over last year.
For the fourth quarter, which signals the thirteenth consecutive one for year-over-year growth, revenue will be up 20 percent compared to same period last year.
In 2010, The Atlantic posted its first profit in decades, driven by strong double-digit gains across its three platforms, and will do so again this year. Last year, The New York Times reported The Atlantic made a profit of $1.8 million for 2010 and while a spokesperson would not confirm that number, she says they'll beat 2010's performance this year.
The year 2011 also marked several digital launches including a standalone website called TheAtlanticCitites.com, which focuses on ideas and trends shaping specific urban areas, and two multimedia offerings—the In Focus Photo blog and a video channel.
Combined, unique monthly visitors for the fourth quarter to TheAtlantic.com, TheAtlanticWire.com and TheAtlanticCities.com will average 11.3 million, double last year's tallies.