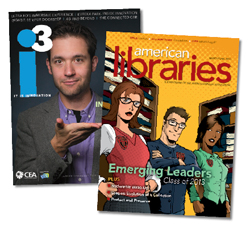 In the United States and elsewhere, there is an association for everything—from toilets to tech organizations, these groups stand to protect and promote the goals of their own industry sectors in a variety of ways, and many do so with magazines.
But association magazines, while maintaining their importance as member benefits, are quickly expanding their missions across platforms, and their parent organizations are making cross-platform information services a high priority.
"All of our members get a copy of our magazine and we consider it one of our key benefits," says Cindy Stevens, senior director of publications for the Consumer Electronics Association (CEA).
For 15 years, the association produced a publication called CE Vision, which it redesigned at the end of 2012 and reintroduced as It Is Innovation, also known as I3, at the January 2013 International Consumer Electronics Show (CES)—the association's tradeshow that attracts more than 150,000 attendees.
"It focuses on all aspects of innovation in the consumer technology market—tech, policy and business," she says. "We felt like we needed a new look and it's been very well received. Print is very important, but it's just one part of our overall publishing strategy."
The new magazine was launched along with a companion mobile app and website, and the brand has an average bimonthly circulation of more than 64,000 print and digital subscribers—which includes an average print circulation of more than 19,000 and an average digital circulation of more than 44,500, according to its June 2012 BPA Circulation Statement.
The magazine has an international circulation and benefits from a premium and exclusive distribution at International CES. A select portion of the magazine's circulation receives the print copy of I3, but it is mailed to all CEA members. The association uses the publication as a leave-behind when CEA staffers go to Capital Hill or meet with prospective members and partners.
In addition to industry events, the publication is also distributed at Reagan National, LaGaurdia and Logan Airports. The publication is available digitally online or through iTunes and Google Play, and the title's Web and magazine content are pushed out to CEA social platforms.
"I think reading the physical copy of the magazine is an experience that many readers value," says Stevens. "I think there will always be a place for print, but digital has allowed us to grow our subscribers, especially internationally. Years ago we were at 25,000 and now our subscribers are a growing base. With digital technology, we can save on postage, mailing, printing and paper—all of the costs associated with the print version. Now with this new publishing model we can send them an e-alert when our flipbook is published and they can access the digital magazine—we wouldn't be able to afford to do that before."
Fostering A Community by Leveraging Membership
Even one of the oldest and largest associations rooted in print, the American Library Association, is getting more bullish on digital. Founded in 1876, the organization is evolving its publishing business model to meet the changing marketplace.
"We're really the connection for members of the association six times a year," says Laurie Borman, editor and publisher of American Libraries magazine, the association's member title. "I look at a magazine as a tangible thing and even though the association is offering advocacy, free library programs, information, tools, accreditation and a lot of other benefits to the membership, this is the one piece they can touch and keep in touch with."
The publication itself is 104-years-old and is moving quickly into the future. In addition to publishing six issues a year, and at least four digital supplements and flipbook digital magazines, the brand has a weekly e-newsletter, its website, a family of blogs, a job board, webinars and a video archive platform that contains coverage of events and conferences, interviews, profiles and more.
American Libraries has more than 3,000 Pinterest followers, 16,800 Twitter followers and more than 4,000 Facebook fans. The American Library Association's YouTube channel has more than 300,000 subscribers and the magazine uses the platform to push out its video content.
"We're here to inform and educate, and we do that in a variety of ways," says Borman. "We have a streaming video program with a live chat called American Libraries Live. We can provide packages to advertisers with a lot more choices than we've ever had before. We also have a lot more content and ways to talk about this content."
In addition to covering day-to-day trends and news online, and diving in-depth in the magazine, American Libraries is able to foster more of a community through these social initiatives. Borman says that with the magazine's online components like video Webinars, members actively engage in online discussions through digital chats.
"We're fortunate that our print advertising model is still strong," says Borman. "As other publishers have experienced, that market has shrunk from its heyday. Unfortunately, digital advertising doesn't command the same dollars so we're always looking for new opportunities to create new vehicles to share news and get the message out. Librarians are well educated, tech savvy people so when we offer new avenues we don't have to beg them to try something new."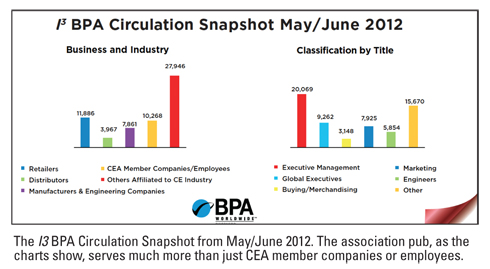 Balancing Digital and Print
The American Society for Association Executives' (ASAE) member magazine, Associations Now, is building a unique identity that can stand alone from its organization.
"Of course ASAE has its own organizational website, but in October we launched an Associations Now website," says Julie Shoop, vice president and editor-in-chief of Associations Now.
The magazine was relaunched in October and rolled out a mobile app and daily email newsletter in addition to its dedicated online, mobile-enabled website. The magazine also has its own Twitter, Facebook and LinkedIn presences to push out daily news items and magazine content.
While Associations Now is building its own unique digital identity to serve its members and readers, Shoop says that print still plays a large role in the overall association market.
"I think print is more important for an association publisher," says Shoop. "Part of the value of having a print magazine for an association is that it reminds members every month that they are connected to the association. A lot of associations will tell you that they have a large number of  'mailboxers' who are less engaged members that might not go to conventions or local networking events. But, they do get the magazine, and they keep renewing their membership because the magazine holds value to them. The magazine can serve to remind them of the value of their membership and it can, at the very minimum, help them stay connected as a member and hopefully encourage them to become more engaged."