Association Magazine Survey

The Second Annual Association Publishing Survey, conducted by Folio: and Readex Research, finds that some of the enduring perceptions of association publishing-a disconnect between the magazine and the overall association agenda-continue to co-exist with a publishing category that's making significant strides in improving overall quality, competing with for-profit magazines, and being on the forefront of cutting-edge innovation when it comes to publishing in print or online.
More so than consumer and b-to-b publishers-where roles from edit to sales to production are all taking on responsibilities beyond their traditional job descriptions-association publishers are struggling to keep pace with a rapidly changing publishing industry with limited resources-both personnel and financial. "There's a severe lack of resources and staff to plan," says one respondent. "Since we are a relatively established, older association, the publishing strategies and philosophies are crusty and old guard," says another. "There is a suspicion and resistance to digital."
Still, association publishers continue to gain (and in many cases, outperform) their for-profit competition. Smaller associations with fewer than 25,000 members seem especially optimistic about their revenue opportunities in 2007. And many respondents continue to express a strong belief in fulfilling the parent association's overall mission, and say they appreciate that being the priority over financials. "I like being part of a mission-driven organization," says one respondent. "I don't imagine it's as cut-throat as for-profit. It's fun!"
Methodology
The survey sample of 584 included all Folio: subscribers classified with association publishing as their primary focus. Data was collected via mail survey from August 13 to September 24, 2007. The survey closed for tabulation with 195 usable respondents for a 33 percent response rate.
As with any research, the results should be interpreted with the potential of non-response bias in mind.
To best meet survey objectives, the results have been filtered to include only the 175 respondents who indicated they work for some type of association and their organization produces at least one publication.
The margin of error for percentages based on 174 usable responses is plus or minus 6.1 percent at the 95 percent confidence level.
Association Breakdown
The majority of association publishers offer multiple titles, in print as well as online. Twenty-two percent of respondents said they publish between five and nine titles, while another 22 percent said they publish three titles [Chart 3a]. Surprisingly, just six percent of respondents say they publish one title, while 9 percent say they offer 20 or more.
When it comes to publication type, 90 percent of respondents offer magazines, and 78 percent offer electronic newsletters, up from 75 percent in 2006 [Chart 3b]. Nearly half are still publishing print newsletters while 34 percent publish scholarly journals and 15 percent publish newspapers and tabloids.
The majority of respondents were in the small- to mid-sized range [Chart 2]. Twenty-seven percent say their association has between 1,000 and 9,999 members, while 10 percent say it's less than 1,000. At the other end of the spectrum, 7 percent had between 100,000 and 299,999, while 7 percent had 300,000 or more.
When it comes to magazine circulation, 30 percent said their largest circulation was between 10,000 and 29,999 [Chart 5b]. Five percent said their largest publication has circulation of 500,000 or more. Meanwhile, 20 percent of respondents said their smallest publication was between 1,000 and 2,499 and 8 percent said there smallest was 40,000 or more [Chart 5a].
While many associations are looking to expand their readership beyond association members in the markets they serve, the majority of respondents, 37 percent, said non-association members make up between 1 percent and 9 percent of their largest publication's readership.
Larger Associations Pursuing More Diversification
Association publications remain focused on print, although larger associations are starting to outpace smaller organizations with revenue diversification, similar to what we have seen in both the consumer and b-to-b publishing sectors. Associations with fewer than 25,000 members said that in 2006, print accounted for an average of 76.8 percent of their overall revenue, compared to 69.8 percent for associations with more than 25,000 in total members.
Paid subscriptions were the next highest revenue generator, accounting for an average of 16.5 percent of revenue for smaller associations in 2006 and 24 percent for larger associations.
Despite the number of online publications they offer, e-media was a relatively small revenue stream for both large and small association publishers in 2006. Smaller publishers said e-media accounted for approximately 3.4 percent of their total revenue last year, compared to 4.3 percent for larger associations-that's almost half the average of online revenue for b-to-b and consumer publishers.
Smaller Associations More Optimistic About 2007
While larger associations may be taking more steps toward diversifying their revenue streams, smaller associations are more optimistic about their financial performance in 2007. Fifty-four percent of associations with fewer than 25,000 members said they expect their publication revenue to increase in 2007, compared to 29 percent of associations with more than 25,000 members.
Meanwhile, 44 percent of larger association publishers say they expect publication revenue to stay about the same, compared to 30 percent of smaller associations. However, just 3 percent of smaller associations say they expect publication revenue to decline this year, compared to a fairly significant 15 percent of publishers with more than 25,000 members.
Challenges: Lack of Staffing, Association Support
The majority of both larger and smaller associations cited the lack of staffing as their primary challenge [Chart 11]. Competing with for-profit publications was the second most daunting task (more for larger associations than smaller ones) while just over a quarter of the respondents cited lack of editorial independence from the association.
While many respondents cited the dilemma of balancing the magazine's priorities with the association's agenda, some respondents cited a lack of opportunity within association publishing. "The biggest challenges are compensation and a lack of advancement opportunities because staffs are too lean," says one respondent.
Others cited difficulty in getting the association to understand (and fund) shifts in publishing trends, such as e-media. "The association is not really attuned to the needs of periodical publishing and they are not aware of the current publishing change," says one respondent.
Others said that even though they are able to compete editorially with their for-profit competition, the economics behind the association model continue to make it difficult. "It's hard explaining why the pass-along is so high for our magazines-which sell for $90 a year-when compared to controlled circulation competitors," says one respondent.
Mission-Driven Benefits
At the other end of the spectrum, several respondents cited the benefits of working for an association as an aspect they liked (a response not often voiced by both consumer and b-to-b staffers). "The employment is very stable and the benefits are good," says one respondent. "It feels like I'm working for a good cause."
Others said they feel less pressure than their for-profit competitors to make budget-based decisions. "We're less profit-driven and corporate," says one respondent. Another says, "We are member-driven so it's not always about the bottom line. There is no quarterly P&L pressure. Our page counts are stable and not dependent only on ad pages." Similarly, one respondent is particularly proud of how associations can enhance the industry they support. "An association adds value to an industry. They invest back into the industry while a for-profit is more interested in its own bottom line."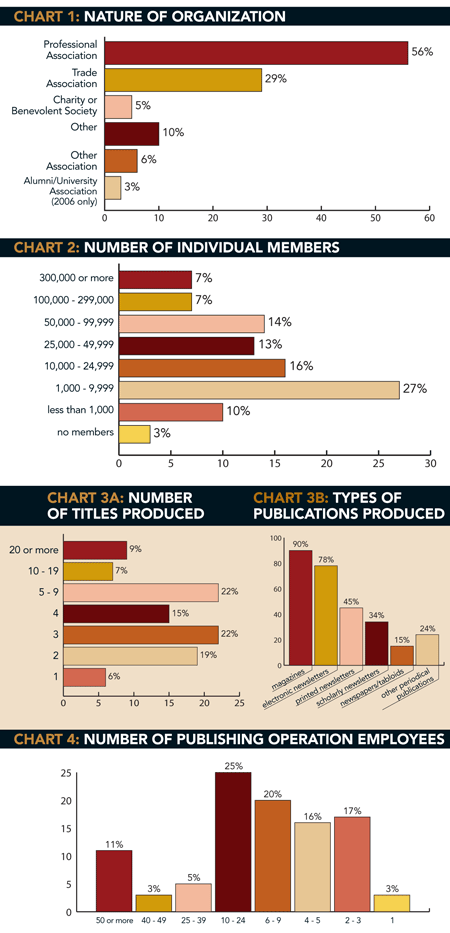 Meet the Author
---