Asset International Buys The Trade

More deals to come, says CEO Jim Casella.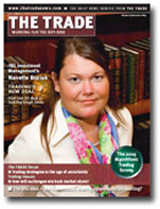 Stamford, Connecticut-based Asset International announced last week that it purchased The Trade Ltd, the London-based publisher of The Trade and other products targeting institutional investors and the buy-side electronic trading community.
The deal—an all-cash transaction for which CEO Jim Casella declined to reveal terms—was the first for Asset International, which itself was purchased by private-equity firm Austin Ventures in December 2008.
The Trade, said Casella, was attractive because it gives Asset a footprint on the buy-side of the equity business. He added that he particularly favored The Trade's connection with the Society for Worldwide Interbank Financial Telecommunication (SWIFT), for which The Trade provides custom publishing services. "Probably most important is the relationship it has with SWIFT. That's one of the things that's appealing to us."
Casella will assume the role of CEO of The Trade as well. No personnel cuts are expected as a result of the deal; the entire staff will remain intact.
The release said this deal was the first in "a series of global media acquisitions" for Asset International, and Casella added that his space is particularly primed for deals. "We're a fairly conservative group, we're not looking to put a lot of debt and leverage on a deal, which is probably why it's been more favorable to us right now," he said. "The financial information services market is out of favor right now, but we don't think the world is coming to an end, so it's a good time to be buying assets in this sector."
Going forward, Casella said he'd like to quickly grow revenues to more than $100 million. As of now, the company has yet to reach the $100 million mark.
Meet the Author
---