Asset International Buys Strategic Insight

The second acquisition for Asset follows its first by a month.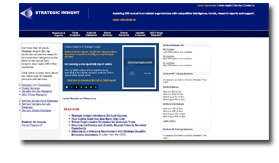 Stamford, Connecticut-based Asset International is acting so 2007. The private-equity backed company—via Austin Ventures—has closed its second acquisition in a month, picking up financial data and analytics firm Strategic Insight.
Terms of the deal were not disclosed, and Jim Cassella, CEO of Asset, will become the CEO of Strategic Insight, replacing retiring CEO Joel Rosenthal.
Strategic Insight provides research and business intelligence to more than 200 financial services companies. Cassella is already planning new retirement-focused financial services and products by combining assets from Strategic Insight and Asset International.
Asset was purchased by Austin Ventures at the end of 2008 and the Strategic Insight deal is Asset's second overall. It bought The Trade at the end of June.
At the time Cassella told FOLIO: that he was on the hunt for low-leverage deals, and the financial services market is particularly attractive. "The financial information services market is out of favor right now, but we don't think the world is coming to an end, so it's a good time to be buying assets in this sector," he said.
Media investment bankers The Jordan, Edmiston Group represented Strategic Insight in the deal.
Meet the Author
---