ASME's New Prez: Web is Our Present

Runner's World editor Willey succeeds Glamour's Leive.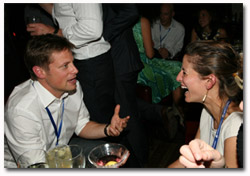 For print magazine editors, having the added duty of editing
a Web site was once the equivalent of "being sent down to Pawtucket," David
Willey, editorial director of Runner's World, said at the American Society of
Magazine Editors luncheon Tuesday at the Hearst Tower in New York.
Not anymore.
Willey, who was named
ASME president Wednesday replacing Glamour editor Cindi Leive, ASME's outgoing
president [both pictured], delivered a rousing speech echoing the power of print while noting
how drastically the job of an editor has changed.
"What was journalism is now content," Willey said. Editors,
he said, have become "platforms."
Willey said that issuing an updated set of editorial
guidelines governing digital, as well as reducing the environmental impact of
magazine production and distribution would be his top priorities.
"It's a tumultuous but thrilling time to be an editor,"
Willey said.
"It's silly to say the Web is our future," Willey added.
"Because it's our present."
Robbie Myers, editor-in-chief of Elle, was re-elected as
ASME vice president. Adam Moss, New York's editor, was reelected to the
secretary post. Lucy Danziger of Self was elected as treasurer.
Meet the Author
---