ASME Changes Guidelines for Digital Age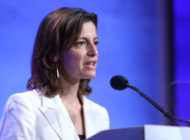 The American Society of Magazine Editors is in the process of changing its guidelines for 2008 to include new rules that address the industry's increasingly vivid shift to digital content.
At the American Magazine Conference in Boca Raton, Florida last week, ASME president and Glamour editor Cindi Leive said the digital environment presents magazine editors with an even blurrier line between advertising and editorial than they are used to.
"The church-state wall isn't as clear or defined as it is in print," Leive said.
Leive announcement came on the heels of a Magazine Publishers of America report that digital magazine initiatives have doubled thus far in 2007.
ASME also announced eight National Magazine Award categories will be open to stories published online. "People care about digital just as much as they do print," she said.
Meet the Author
---