AskMen Rolling Out New Responsive Design Website

New design offers a magazine-like experience for readers and advertisers.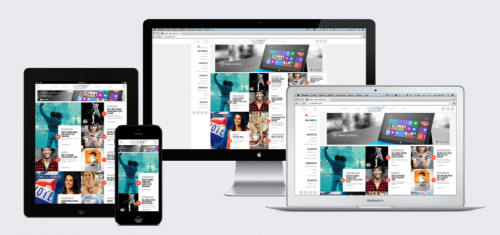 AskMen, a men's lifestyle Web-only publisher, is rolling out a new responsive design site on August 29 after several months of planning and developing. This will mark the first major brand redesign since its parent company, Ziff Davis, was sold in 2010.
Under The Hood
"We had the engine of a Porsche but the body of a Pinto," says Ryan Johnson, director of marketing and business development. The engine he is referring to is the content that the site has been curating over the past 14 years. And the body, of course, is the website that was no longer keeping up with the discovery demands of 17 million unique visitors each month.
"We have over 100,000 pieces of content, that's a lot of content," Johnson says. "It's easy to get lost in it so we wanted to make it much easier for our readers, especially those coming in from search [65 percent], to find specific pieces of content, and also related content."
The company built the new site from the ground up with all in-house resources. The site optimizes HTML5 to its fullest capabilities and presents content with a familiar feel across all platforms, whether it's on the Web, a smartphone or tablet.
According to Johnson, 50 percent of the site's traffic now derives from mobile, so unifying the look and feel of AskMen's content presentation was a top priority.
A Magazine-Like Experience For Readers
The new AskMen design is in line with several other recent industry redesigns, in that it's image-heavy, utilizes a tile format and integrates navigation rails on either side of the page. It complements that design with a sticky perpetual click feature that keeps readers looking at relevant content as they scroll through content. And tying all of that together is a unique sharing and user-generated curation tool.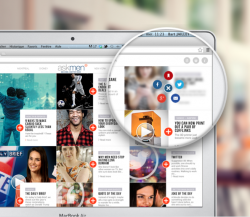 "We wanted to create one button that really could include all the sharing tools we want to focus on," Johnson says. And it was that notion that inspired the new plus sign feature. The plus sign tool allows a reader to share content across his or her social network, but more significantly the tool also allows readers to add stories into a queue called "My Magazine."
"My Magazine" has a visually rich interface where content can be stored and managed. For now, the feature leverages browser cookies to store content, however Johnson says there are possibilities in later phases to enable user registration, which could be especially useful for data aggregation and learning more about the AskMen audience and their tastes.
The visual interface isn't the only aspect that has a print-like appeal. Johnson says that another objective in the relaunch was to offer a new product that would "excite advertisers." To do that, AskMen wanted to capitalize on the emerging trend of native advertising.
…And Advertisers
"We started thinking about print," Johnson says. "If you look at big beautiful luxury magazines, there's the magazine's editorial content and ads, and you can almost say that the ads, because of how they are done, and integrated and how beautiful they are, they are almost on a level playing field as the content itself. So we thought: how can we represent that on digital?"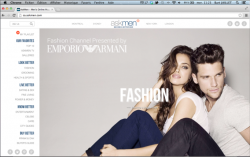 The answer is that AskMen will go with only one display ad per page as its strategy. Instead of loading up a page with several small banners, now the ad content will have a 100 percent equal share with editorial content-something that Johnson feels will excite advertisers immensely.
Essentially, the company believes that fewer ads means more value for its clients. Not only that, but because of the new responsive design, ads well be pushed across all devices and not packaged by platform.
What About Marketing?
AskMen implies that its marketing efforts for the rebranded site have been limited, but Will Guyatt, head of global communications for Ziff Davis, suggests that readers are partially responsible, "one of the things that surprised me most about working with AskMen was how popular it is with users and how they share and talk about content," he says.
Still, Guyatt also confesses another reason, "We're not like other media companies, in that we spend a great deal of money in terms of marketing and PR, we're very frugal," he says, adding, "users really do push the content."
Phase Two and Beyond
Ziff Davis says there will be more to come in terms of what the new site has to offer. Specifically, e-commerce will likely play a role in the near future, and the company says it is hoping to find a way to integrate the plus sign into that strategy.
Nevertheless, Ziff Davis is eager to launch the new site and hints that there are perhaps more products like this in store, "it gives an impression of the kind approach the company would like to take on sites, it's very ambitious and very fresh," Guyatt says.
Meet the Author
---