ASAE

The ASAE launched a suite of new products in 2012.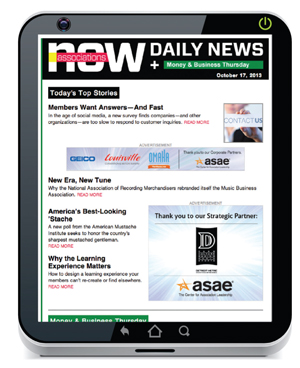 The American Society of Association Executives (ASAE) began its multiplatform strategy last year when it decided to redesign the magazine, develop a dedicated app and update the separate online home for its content.
Editor-in-chief Julie Shoop and chief marketing and communications officer Robb Lee, say the roll out took about a year, but the real heavy lifting took about six months once the board signed off on it in March 2012. "It was very fast," Lee says. "We were able to prepare things, but the reality was that, between March and October, the entire media brand was re-envisioned, repositioned and rebranded."
Associations Now didn't do it alone, Shoop says. "We reached out to possible partners because we didn't have the internal resources, and we ended up working with McMurry/TMG."
In October 2012, Associations Now introduced its redesigned magazine, responsive design website, magazine app, a daily newsletter and complementing social media channels, which includes Facebook, Twitter and LinkedIn.
However, prior to that launch, Shoop admits there were some challenges. "We had to get our minds around doing things differently," she says. "It's a leap. People in our business understand media is multiplatform, but when your tradition is entirely rooted in print it's hard to change your work processes in six months."
What Shoop means is that she and her entire staff had to rethink almost everything, but specifically scheduling, content creation and organization as well as learn entirely new productivity technologies. After all, unique content now needs to be created for print, mobile, the Web and social. Judging by the results, the team has adapted to the new demands.
The magazine's circulation size is 18,700, and last year when the new site launched it was averaging 20,000 unique visitors each month. However, that figure has doubled and the site now averages 40,000 each month—something that should excite advertisers moving forward.
Associations Now is an ad-supported model in print, on the Web and on its mobile app. "It's not just a page in the magazine anymore," Shoop says. And Lee attests that the organization's decision to expand beyond print was not because the magazine wasn't successful, but because there was an opportunity to offer its members an enhanced service through additional revenue streams. "We will continue to evolve and look for new revenue models in digital. We have a lot of conversations on how to get better," Lee says.
Despite all the changes last year, both Shoop and Lee say the publication is not done evolving, however the next steps will not be made in haste.
"The challenges are not new," Lee says. "We have talked about paid content, we talked about bundling, we have talked about growing the audience and we have had success in some of those areas and in other areas we've yet to try. The point is we are searching for the right balance between revenue and expenses and what we have now is a product that has been received tremendously well within our community."
TAKEAWAY: Associations Now has doubled its Web traffic in just one year since its launch, climbing from an average of 20,000 unique visitors in 2012 to 40,000 in 2013. 
Meet the Author
---