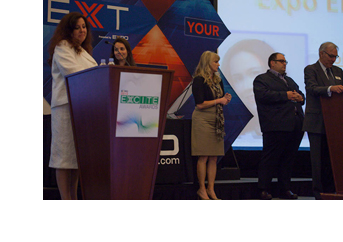 Influencers across the expo industry were honored Wednesday afternoon as the ExpoNext Conference kicked off with an awards luncheon at the Marriott Waterfront in Baltimore.
Expo's E.X.C.I.T.E. Awards were announced, the Top 25 Fast-Growth Shows were unveiled and the Expo Elite (pictured) were recognized at the gala keynoted by Baltimore Mayor Stephanie Rawlings-Blake. [Expo magazine is a sister pub of FOLIO:]
The American Dental Association's 2012 Annual Session took home the Editor's Choice E.X.C.I.T.E. Award for best overall event, along with wins in Best Application of Content/Education on the Showfloor and Best Use of Audiovisual to Enhance an Event.
The New York International Auto Show (Best Association Show; Best Consumer Event; Best Media Coverage), Natural Products Expo (Best Green Event; Best Overall Public Relations Campaign) and IDG World Expo's E3 (Best Use of a Mobile App; Best Website/Microsite) also won multiple E.X.C.I.T.E. Awards. See the full list below.
Chicago Comic Con & Entertainment Expo was named the fastest growing show of 2012. More than 41,000 people were in attendance, up from 34,000 in 2011. Exhibitors and net square footage were also factored in. The Global Petroleum Show, IDEAg Dakotafest, 2012 International CES and PAX East rounded out the top five.
Members of the Expo Elite, first announced in January, were also honored for their contributions to the industry.
E.X.C.I.T.E. Award Winners

Best Application of Content/Education on the Showfloor
• American Dental Association – 2012 Annual Session
Best Association Show
• Greater New York Automobile Dealers Association – New York International Auto Show
Best Buyer-Seller Event
• Prime Advantage 2012 Fall Conference
Best Consumer Event
• Greater New York Automobile Dealers Association – New York International Auto Show
Best Development of a Spinoff Event
• Paragon Group Inc. – Boston RV & Camping Expo
Best Environmental Design
• Caterpillar Global Mining at MINExpo International 2012
Best Extension of an Event's Life
• UBM Tech – Enterprise Connect
Best Green Event
• Global Experience Specialists – Natural Products Expo, Penton Media
Best Incorporation of Venue or Destination Into a Show
• National Cattlemen's Beef Association – 2013 Annual Cattle Industry Convention and NCBA Trade Show
Best Innovative Sponsorship Idea
• GameStop – 2012 GameStop Conference
Best Interactive Exhibit
• Subaru of America – Choose Your Subaru Adventure
Best International Event
• E.J. Krause – The GREEN EXPO
Best Marketing Campaign
• CSG Creative – ISA International Sign Expo
Best Marketing Collateral
• High Point Market Authority – High Point Market
Best Media Coverage
• Greater New York Automobile Dealers Association – New York International Auto Show
Best Overall Public Relations Campaign
• New Hope Natural Media – Natural Products Expos
Best Showfloor Design
• Jaymie Scotto & Associates – Telecom Exchange
Best Showfloor Engagement Strategies
• National Trade Productions – Coverings 2012
Best Startup/First-Year Event
• Opus Events Agency – AWS re: Invent 2012
Best Use of a Mobile App
• IDG World Expo – E3 2012
Best Use of Audiovisual to Enhance an Event
• American Dental Association – 2012 Annual Session
Best Use of Event Technology
• Barkley Kalpak Agency – Medco/ ESI Drug Trend Symposium
Best Use of Social Media
• Cisco Systems – Cisco Live
Best Use of Twitter
• BlogHer Inc. – BlogHer '12
Best Website/Microsite
• IDG World Expo – E3 2012
25 Fast-Growth Shows
1. Chicago Comic & Entertainment Expo
2. Global Petroleum Show
3. IDEAg Dakotafest
4. The 2012 International CES®
5. PAX East
6. FABTECH Mexico
7. National FFA Convention & Expo
8. World Dairy Expo
9. New York Comic Con
10. Coverings 2012
11. International Apparel Sourcing Show
12. The LED Show Conference & Exhbition
13. Natural Products Expo West/Engredea
14. NRA- Annual Meeting and Exhibits
15. JEWELERS INTERNATIONAL SHOWCSAE (JIS)
16. National Restaurant Association Restaurant, Hotel-Motel Show
17. 2012 IFT Annual Meeting & Food Expo
18. Family Medicine Forum
19. World of Asphalt
20. International Boston Seafood Show
21. COUTURE
22. WasteExpo
23. Rocky Mountain Dental Convention
24. TMC's Annual Meeting & Transportation Technology Exhibition
25. SupplySide West