Arthur to 'Hibernate' Print Edition

Despite $20,000 infusion from readers, music magazine takes a bow.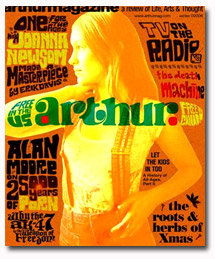 Last summer's cash infusion from readers apparently wasn't enough to save ailing Arthur magazine from going out of business.
On its Web site, editor/publisher Jay Babcock today wrote in a memo that he is "hibernating" the print edition until a publishing partner steps forward to help run/finance the magazine. "I am done with self-publishing Arthur, which I've been doing since July 2007," he wrote. "It's too much work for one person to edit, publish and manage a national magazine, month after month, year after year."
In his memo, Babcock said he will "upgrade and expand greatly" Arthur's Web site.
A self-proclaimed "transgenerational global counterculture" bi-monthly music magazine, Arthur was distributed free in various places like record shops, used bookstores, coffeehouses and art galleries. It was launched in 2002.
Last summer, Babcock turned to readers for monetary donations, claiming he needed $20,000 or the magazine would "die." Readers opened their wallets but it appears they only extended the magazine's gloomy fate for another six months.
No doubt, singlehandedly editing and publishing a national magazine is a lot to handle. It's a shame, though, that another music magazine has bitten the dust. At some point, perhaps someone with enough money and creativity will pick up Arthur and be able to successfully navigate the brutal landscape that is music magazine publishing.
Meet the Author
---